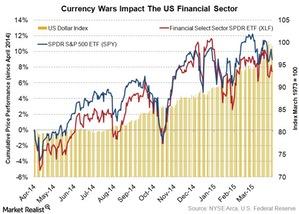 US Banks Among the First to Fall to the Currency Wars
How strong is the US financial sector in the face of currency wars?
The US financial sector (SPY) is the envy of the world. It took a significant hit during the Great Recession following the Lehman Brothers collapse, but it's now even bigger than it was before the crisis.
Having said that, the financial sector is first and foremost adversely affected by currency wars. Investors in financial sector ETFs such as the SPDR Financial Select Sector Fund (XLF) should be wary because the financial sector has significant revenue exposure to non-US dollar currencies. As a result, SPY has been outperforming XLF for the past year, as you can see in the chart above.
Article continues below advertisement
The financial sector has underperformed, spread has declined
The underperformance is clearly visible in the spread between the daily returns of the technology sector (XLF) and the broader market (SPY), which you can see in the chart below. This spread was volatile throughout most of last year, but we're seeing a sharp decline in 2015. This only highlights the declining returns and underperformance of the financial sector.
Banks have substantial and direct exposure to foreign-currency risk in every country in which they operate beyond the US.
Morgan Stanley (MS), which generates about 26.65% of its revenues outside the US, saw its free cash flow depleted by $1.85 billion. At the same time, other big names such as Bank of America (BAC) and JP Morgan (JPM), which respectively generate about 13.4% and 25.63% of their revenues outside the US, have also come under pressure. So has Citigroup (C) and its 55% of revenues from abroad.
Bank of America's (BAC) free cash flow has been depleted by about $3.07 billion or 12%. Meanwhile, that of JP Morgan Chase & Co. (JPM) has lost $1.13 billion or 3%. Citigroup's free cash flow took a hit of about $2.43 billion or ~6%.
Strengthening dollar weakens US Banks
Since the middle of 2014, the US dollar has appreciated against foreign currencies to which big US banks have major exposure. Bank stocks such as BAC, C, and JPM have performed less well over this time period. Meanwhile, stock performance is affected by a number of other factors as well—most pertinently, earnings releases. So, while JPM and Citi stocks have revived since the beginning of this year, BAC continues on its downward dive.
Next in our series, we'll take a look at another key US sector that's been strongly impacted by the currency war—the energy sector.