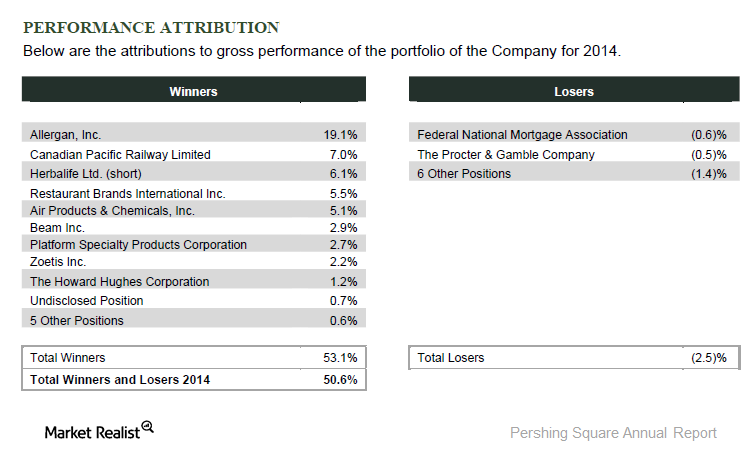 4Q14 Updates to Pershing Square Holdings
By Samantha Nielson

Nov. 20 2020, Updated 2:03 p.m. ET
Pershing Square Holdings in 4Q14
Activist hedge fund manager William Ackman's Pershing Square Holdings filed its fourth quarter 13F last month. In this series, we'll go through some of the fund's positions traded during the quarter that ended in December as well as some of the latest updates to existing positions.
Pershing Square Holdings' US long portfolio rose to $16.04 billion, from $13.4 billion in the fourth quarter of 2014. In its annual report for the year ending 2014, Pershing Square said, "2014 was a year of significant change for the Company, in which assets under management ("AUM") increased from $2.5 billion to $6.6 billion. This was due primarily to (i) strong investment performance, and (ii) the additional capital raised in connection with the listing of the Company's Public Shares on Euronext Amsterdam."
Article continues below advertisement
Positions traded by the fund in 4Q14
Pershing benefits from stakes in APD, CP, HHC, and RBI
The fund's annual report also talked about existing positions such as Air Products & Chemicals (APD), which added 5.1% to the fund's gross performance of the portfolio in 2014. Pershing Square said it was pleased with APD's new CEO (chief executive officer) Seifi Ghasemi's initiatives that have led to improved performance.
The fund's letter noted, "With operating margins now at ~17.5%, Air Products has closed 150 basis points of its margin gap versus Praxair with remarkable rapidity." Both APD and Praxair (PX) account for ~10.5% of the Materials Select Sector SPDR Fund (XLB). They also make up ~10.3% of the iShares U.S. Basic Materials ETF (IYM).
Pershing Square noted the "remarkable transformation" of Canadian Pacific (CP) under CEO E. Hunter Harrison. It said, "We believe CP remains an attractive investment led by a superlative management team."
Article continues below advertisement
The fund also praised the management at the Howard Hughes Corporation (HHC), saying, "We believe that HHC is well positioned to benefit from the housing recovery, and that over time, the intrinsic value of HHC will be easier for investors to assess as the company's cash generation from stabilized income-producing assets increases."
The fund elaborated on Burger King's acquisition of Tim Hortons and the subsequent creation of Restaurant Brands International (RBI). It added, "We believe the acquisition of Tim Hortons will create significant long-term value for RBI shareholders as executed by the company's controlling shareholder, 3G Capital, which has an extremely strong track record of successful business transformations."
Confident that Herbalife will be shut down
Pershing also commented on its short position in Herbalife (HLF) saying, "We remain confident in our short thesis that HLF is an illegal pyramid scheme that will collapse or otherwise be shut down by regulators. The company's business has continued to deteriorate as reflected by its substantially reduced forward earnings guidance for 2015."
Pershing comments on Fannie Mae and Freddie Mac positions
On its investment in Fannie Mae and Freddie Mac, Pershing said, "While we remain confident in the prospects for Fannie and Freddie and believe our investment in their common shares will ultimately be worth a large multiple of current prices, the litigation is likely to continue for a protracted period before being resolved, unless the Administration, Treasury, Congress and other interested parties forge a consensual resolution."
Pershing and a few other hedge funds have filed a lawsuit against the government for taking full claim on all profits earned by Fannie Mae and Freddie Mac. It said its total investment only accounts for about 3% of its total capital considering the "inherent uncertainty of the situation."
In the next part of this series, we'll look at Pershing's latest new position in Valeant Pharmaceuticals (VRX).