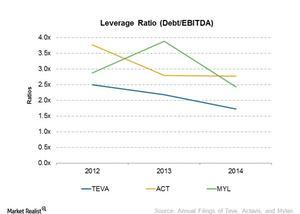 Teva's Debt Levels – Best among Competitors
By Nicole Sario

Updated
How leveraged is Teva?
In 2014, Teva (TEVA) had debt of $10,327 million, down by 15% from the previous year. The company's debt-to-EBITDA (earnings before interest, taxes, depreciation, and amortization) multiple was 1.72x in 2014. In March 2015, the company announced a debt offering of 2 billion euros, followed by a $1 billion debt tender offer to purchase a series of notes for cash in February 2015.
On March 30, 2015, Teva announced its $3.2 billion acquisition of Auspex Pharmaceuticals, a biopharmaceutical company specializing in developing novel products from a known molecule with an improved safety and efficacy profile. The transaction is funded through cash on hand. This will have a positive impact on Teva's credit rating since it will allow the company to strengthen its product pipeline without a significant increase in debt. Moody's maintains Teva's A3 rating or stable outlook.
Article continues below advertisement
Factors that support a stable outlook
Fitch also affirms a stable outlook for Teva and assigns BBB+ ratings. This confirmation is due to the following factors:
Teva is the world's largest generic drug manufacturer on a large scale.
It has geographic and product diversification.
Copaxone, a significant growth driver, is expected to face competition in 2015 after its patent expiry in 2014. This risk is mitigated to an extent through the launch of a new version of the drug with less frequent dosing. Teva is able to switch around 60% of its patients to this new drug.
Teva is making significant cost reductions, targeting gross cost saving of $2.48 billion from 2013 to 2016.
 Teva and its peers
In terms of leverage ratio or debt-to-EBITDA, Teva (TEVA) is well placed within the minimum range of 2.0x–2.5x to maintain a low credit risk. This will allow the company to use debt for acquisitions and growth.
Actavis (ACT) had a leverage ratio of 2.77x in fiscal 2014. It increased to 4.80x on a pro forma basis after the acquisition of Allergan. In the same year, Mylan (MYL) and Hospira (HSP) had multiples of 2.80x and 2.09x, respectively.
The profitability of these companies can be capitalized by investing in ETFs such as the iShares U.S. Healthcare ETF (IYH).