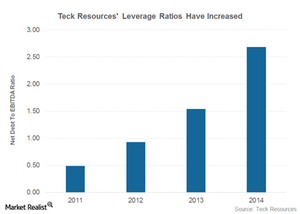 Teck Resources Balance Sheet Healthy Despite Challenges
Company balance sheet
Previously in this series, we discussed Teck Resources (TCK) revenues, and earnings have come down in the last couple of years. In this part, we'll analyze some of its balance sheet ratios. Liquidity and leverage are some of the key metrics that analysts track on any company's balance sheet.
Article continues below advertisement
Leverage ratios
The above chart shows the company's net-debt-to-EBITDA (earnings before interest, taxes, depreciation, and amortization). Its net-debt-to-EBITDA increased from 0.49 in 2011 to 2.68 in 2014. Though Teck Resources leverage ratios have increased over the last few years, they're still healthy by industry standards.
In 2013, Freeport-McMoRan (FCX) acquired Plains Exploration & Production Company for a consideration of $16.2 billion. This was a major investment in oil and gas production. That same year, Freeport-McMoRan also acquired Moran Exploration for $2.2 billion. As a result of these acquisitions, the company's leverage ratios have increased considerably.
Freeport-McMoRan currently forms 1.11% of the iShares North American Natural Resources ETF (IGE). Turquoise Hill Resources (TRQ) and Barrick Gold (ABX) respectively form 0.18% and 0.78% of IGE.
Liquidity
Teck Resources had cash and cash equivalents of more than 2 billion Canadian dollars, as of December 31, 2014. Although its cash balance has more than halved since 2011, this is still a healthy liquidity position for a company its size. Having a comfortable liquidity ratio is a positive sign for any enterprise. It helps a company ride out challenging markets without relying much on external borrowing.
Potential investors should also analyze how Teck Resources compares with the financial positions of its peers. We'll provide a detailed comparison in our next part.