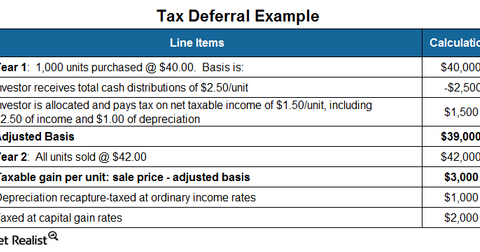 Tax Consideration: How Are MLP Investors Taxed?
By Kurt Gallon

Updated
Tax consideration
In the last part of this series, we discussed distribution. Now, let's see how distributions are taxed—or simply how MLP (master limited partnership) investors are taxed.
A MLP is a pass-through entity that doesn't pay tax itself. Instead, the unitholders are responsible for paying the tax on MLPs' earnings at their own marginal tax rate. Each unitholder is allocated a proportionate share of a MLP's income, gains, deductions, losses, and credits. This is reported annually on the K-1 form. The Schedule K-1 is a tax document that reports partnership interests.
Distributions are considered a return of capital under the tax code. They aren't taxed when received. Usually, 80–100% of MLPs' distribution is tax deferred.
The above chart and the following discussion are for informational purposes only. They shouldn't be construed as offering tax advice. Consult your tax advisor regarding your own situation.
Article continues below advertisement
Basis adjustments
Basis is used to determine the gain or loss when an investor sell its units. The initial basis is the total purchase price for the units. Each year, the investors' share of taxable partnership income adjusts the basis upwards. It adjusts the share of deductions, like depreciation, downwards.
Cash distributions are considered return of capital. They adjust the basis downwards. As a result, when an investor sells its units, the taxable gains—sales price minus the adjusted basis—are increased by the amount of distributions.
Generally, distributions are greater than net taxable income because of deductions like depreciation. As long as this holds true, the tax on distributions is deferred.
The gain, resulting from basis reductions due to depreciation, is taxed at ordinary income rates—this is called "recapture." The remaining portion is taxed at capital gain rates.
Key ETFs
Investors avoid tax nuances and the pain of filing the K-1 form by investing in ETFs like the Alerian MLP ETF (AMLP). AMLP is structured as a corporation. It handles all K-1 forms and sends investors a single 1099—this is much easier to handle.
Through AMLP, you can get exposure to few of the well-known MLPs like Enterprise Products Partners (EPD), Plains All American Pipeline LP (PAA), Magellan Midstream Partners (MMP), and Energy Transfer Partners LP (ETP). These four companies account for ~33% of AMLP's total portfolio.