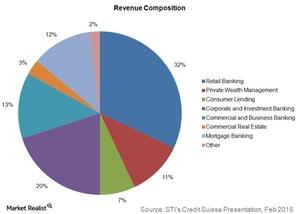 SunTrust: A Leading Bank in the Southeast
Overview
Headquartered in Atlanta, Georgia, SunTrust (STI) is a leading bank in the southeastern and mid-Atlantic states. The company has strong market positions in Florida, Georgia, Maryland, North Carolina, South Carolina, Tennessee, Virginia, and the District of Columbia.
STI provides a broad range of consumer and wholesale banking, mortgage banking, and private wealth management services. Services pertain to brokerage accounts, investment management, equipment leasing, and capital markets.
SunTrust is the twelfth largest bank in the US by assets. It has total assets of $190 billion.
Article continues below advertisement
Competitors
STI competes with leading national banks like Wells Fargo (WFC) and regional banks in different service segments. BB&T (BBT) and Regions Financial (RF) are the two direct competitors operating in the Southeast. STI also competes with non-banking financial institutions in the region.
SunTrust Bank forms about 1.4% of the SPDR S&P Regional Banking ETF (KRE) and roughly 5.5% of the iShares US Regional Banks ETF (IAT).
Revenue breakdown
The graph above shows SunTrust's revenue breakdown. Retail banking, consumer lending, and private wealth management generate half of STI's revenues. Corporate and investment banking contribute 20%, while commercial and business banking make up 13% of total revenues. Mortgage banking brings in 12% of the company's revenues.
In this series, you'll learn more about SunTrust's operations, loan portfolio, returns, performance, and valuation. After reading this series, you should be able to make more informed and sophisticated decisions about your investments in STI.