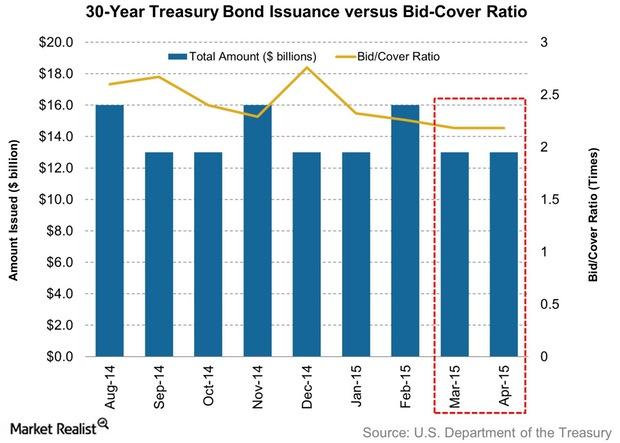 Strong Indirect Bidding at April's 30-Year Treasury Bond Auction
By David Ashworth

Apr. 13 2015, Published 1:16 p.m. ET
Borrowing quantum maintained
The monthly auction of the 30-year Treasury bond, or T-bond, was held on April 9, 2015, for $13 billion, the same as at the previous two auctions. Auctions are watched by stock and bond (AGG) investors.
Long-term Treasury yields (TLT) reflect economic growth and inflation expectations. They also affect returns on the real estate sector. As a result, the returns on REITS such as Annaly Capital Management (NLY) and ETFs such as the iShares U.S. Real Estate ETF (IYR) are closely influenced by 30-year Treasury bond yields.
Article continues below advertisement
Key takeaways
The overall demand at the 30-year Treasury bond auction remained weak with the bid-to-cover ratio reading 2.18, the lowest since May 2014.
The auction size was set at $13 billion—the same as it was at the March auction.
The issue's coupon rate was set at 2.5%—the same as it was at the previous auction.
The high yield for the auction fell to 2.6%, down from 2.68% in March.
Bid-to-cover ratio remains the same
The overall market demand, represented by the bid-to-cover ratio, remained the same as the previous month, with the ratio reading 2.18x, the lowest it had been since May 2014. So far in 2015, the ratio has averaged 2.2x, lower than the 2014 average of 2.5x.
Article continues below advertisement
Market demand falls
Market demand for the securities fell to 58.2% of the accepted competitive bids compared to 63.4% of bids at March's auction. As a result, the share of primary dealers rose to 41.8%, up from 36.6% in March because of comparatively lower investor demand. The dealer takedown was its highest since November 2014. Primary dealers include companies like Citigroup (C) and Goldman Sachs (GS).
Both direct and indirect bidding fell, but the fall in direct bids was much sharper than in indirect bids. The share of direct bids includes bids from domestic money managers such as Wells Fargo (WFC) and Invesco (IVZ). They fell to 7% in April—down from 11.6% in March. The percentage of indirect bids includes bids from central banks overseas. They fell marginally to 51.3% in April from 51.9%, month-over-month.
Yield analysis
The high yield awarded at the April auction was 2.6%, down from 2.68% in March. The 30-year Treasury yields jumped in the secondary market in response to the weak auction, ending at 2.61% on April 9 compared to 2.53% the previous day. Yields on other papers were also pushed higher after the weak auction.
Ten-year T-notes auction
In the next part of this series, we'll analyze the key highlights from last week's Treasury auction for the ten-year T-notes.