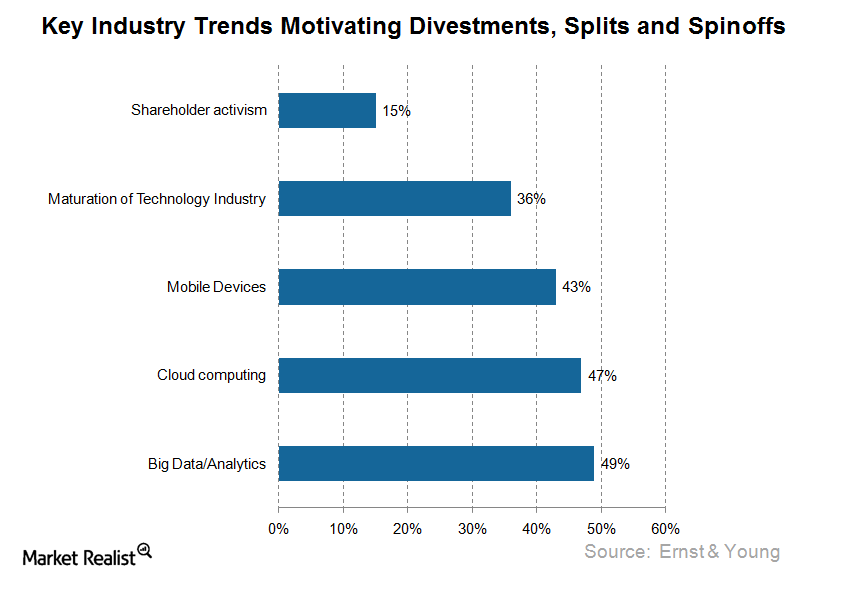 Is the Spin-off Becoming a Trend in the IT Sector?
By Anne Shields

Apr. 14 2015, Updated 6:10 p.m. ET
Stagnation in PC market and emergence of SMAC
In the previous part of this series, we discussed the possible sale of Veritas by Symantec. This piece of news doesn't come as a surprise to many. Since 2010, Symantec has been under pressure from various analysts and investors to spin off its storage and security businesses due to the lack of synergies between the two operations.
According to a Wall Street Journal report, "in recent weeks" the company has contacted several potential buyers for Veritas.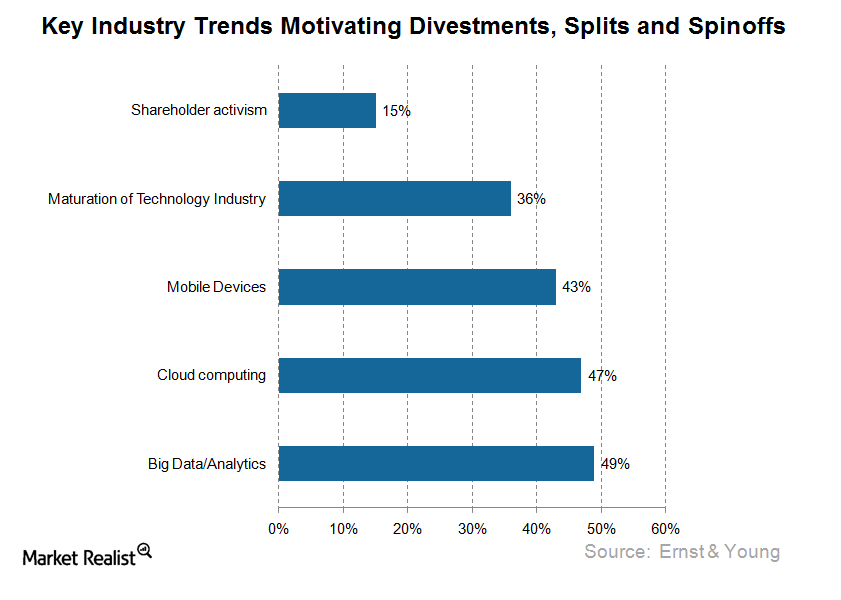 On April 13, 2015, according to Reuters, hedge fund Jana Partners said Qualcomm should divest its chip business to increase its growth and valuations. This may indicate that spin-offs are a trend that's picking up in the tech sector.
Slow growth in the PC market, coupled with the increased adoption of virtualization and SMAC—social, mobile, analytics, and cloud, has drastically changed IT (information technology) and associated data storage and security environments.
Struggling with these issues, in October 2014, Symantec (SYMC) announced plans to split itself into two companies that would function as two separate entities—the security business and the IM (information management) business.
Article continues below advertisement
Aside from Symantec, HP (HPQ) and eBay (EBAY) also announced decisions to split into separate companies in 2014. As well, IBM (IBM) sold its server business to Lenovo in 2014, and Nokia sold off its mobile business to Microsoft (MSFT). All of these divestitures and spin-offs imply that although these companies were once domain rulers, they're now finding it difficult to keep up with the exponential speed at which today's IT environment is changing.
In our previous series, Why Symantec split up into two companies, we discussed the reasons why Symantec split up in detail.
The above chart shows that big data and cloud are key drivers of divestment or spin-off decisions. Shareholder activism and investor pressure seem to be the least important factors in a company's decision to divest, hive off, or split their divisions.
For diversified exposure to Symantec, you can invest in the iShares U.S. Technology ETF (IYW). IYW invests about 0.45% of its holdings in Symantec.
Growing preference for leaner operations and businesses
According to Joe Cornell, publisher at Spin-Off Research, a firm that tracks corporate splits, 2014 saw the greatest number of spin-offs since 2000. "Companies that are smaller and more focused usually run better and management tends to get their performance up. When they are out of a spin-off by 12 or 24 months, they usually start heading in the right direction." Cornell added, "Portfolio managers don't want to invest in something that is eight or ten different businesses. They prefer to invest in pure plays."
The split-up trend has extended to other sectors, too. In June 2014, Time Warner (TWX), parent company of CNN, spun off Time Inc., its publishing unit.