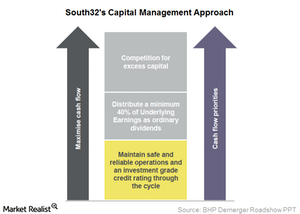 South32's Capital Management Approach after It Gets Listed
By Anuradha Garg

Apr. 16 2015, Published 1:30 p.m. ET
Capital management approach
South32's capital management approach, like BHP Billiton (BHP), seems to be focused on shareholder return. BHP maintains a progressive dividend policy. However, on April 14, credit rating agency Standard & Poor's warned that BHP's dividend policy reduced its financial flexibility and put the miner on a negative credit watch. South32 will tread somewhat differently.
Maintain safe and reliable operations and maintain its investment grade credit rating through the cycle. For BHP, maintaining an A+ credit rating has always been a priority. In contrast, Rio Tinto (RIO) hasn't been as rigid. It usually maintained an A- rating. Vale SA (VALE) has a BBB+ rating. It's below BHP and Rio Tinto. Cliffs Natural Resources (CLF) primarily operates in the North American iron ore market. It has a B credit rating. This rating mainly reflects the impact of lower iron ore prices on a relatively small company with a high debt load.
South32 intends to distribute a minimum of 40% of its earnings to shareholders as dividends. This will be done every six months following its reporting period. The dividends will be distributed with maximum practicable franking credits. The extent of franking will depend on the level of South32's franking account balance. It will be "nil" to start with. Franking credits are a way to reduce or eliminate the double taxation of dividends. However, the company doesn't intend to pay any dividends for the period ending June 30, 2015. The period will conclude only one month after the demerger's implementation.
Excess capital will be allocated across special dividends, share buybacks, and capital investment in a manner that maximizes shareholder returns. South32 will follow an independent business strategy after the demerger. Its investment decisions will be assessed without the need to consider competing demands for capital from BHP's other businesses.
Investors can also look at ETFs, like the SPDR S&P Metals and Mining (XME), if they don't want to invest in individual companies. Cliffs Natural Resources forms 3.7% of XME's holdings.
Article continues below advertisement