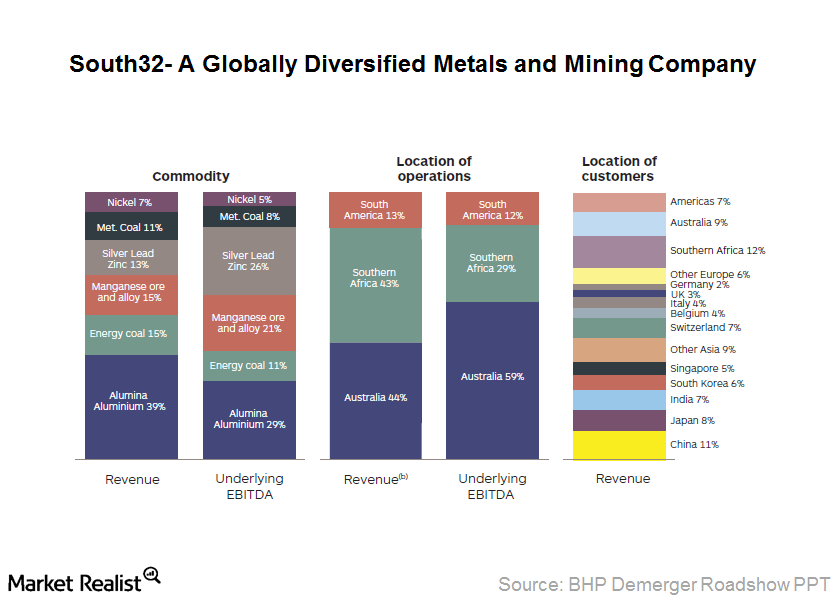 What Would South32 Look Like after the Demerger?
By Anuradha Garg

Apr. 16 2015, Updated 2:29 p.m. ET
Diversified producer
BHP Billiton (BHP) announced four additional appointments to South32's board of directors on April 7. These director appointments are also subject to shareholder approval of its proposed demerger. The vote on the demerger proposal will be held on May 6.
After the demerger, South32 would be the world's largest producer of manganese ore and a top global producer of manganese alloy. It would have a significant global alumina and aluminum business. It would also operate the world's largest silver mine and be a major producer of refined nickel.
The majority of South32's assets are located in the Southern Hemisphere with its two regional centers, Australia and South Africa, linked by the 32nd parallel line of latitude. The company's name represents this footprint and its regional approach to managing its operations.
Article continues below advertisement
South32 will be headquartered in Perth, Australia. Its proposed listings will be on the ASX (Australian Securities Exchange), the JSE (Johannesburg Stock Exchange), and the LSE (London Stock Exchange). It will also establish an OTC (over-the-counter) ADS (or american depositary shares) program in the US.
Regional structure
Assets in South32 would be organized into regional, rather than commodity-based lines. The regional organizational model involves combining the business units and assets into regional business units. This will reduce a layer of management. More authority will be devolved to regional business units—reducing the size of South32's corporate center and facilitating greater alignment with regional stakeholders. Assets would be split into Australia and Africa groups.
The company's operations would be spread across five countries and ten commodities. The company's diversification will reduce its reliance on any one particular commodity or region. Unlike most diversified companies—including BHP Billiton, Rio Tinto (Rio), Anglo American (AAUKY), and Glencore (GLNCY)—South32 won't have one commodity dominating its revenue and earnings mix. Aluminum and alumina contribute ~29% of its EBITDA (earnings before interest, tax, depreciation, and amortization). Manganese and alloys contributes 21% of its EBITDA.
BHP and Rio Tinto form 28.6% of the iShares MSCI Global Metals & Mining Producers ETF (PICK). The SPDR S&P Metals & Mining ETF (XME) is also a good way for investors to get exposure to the metals and mining sector.