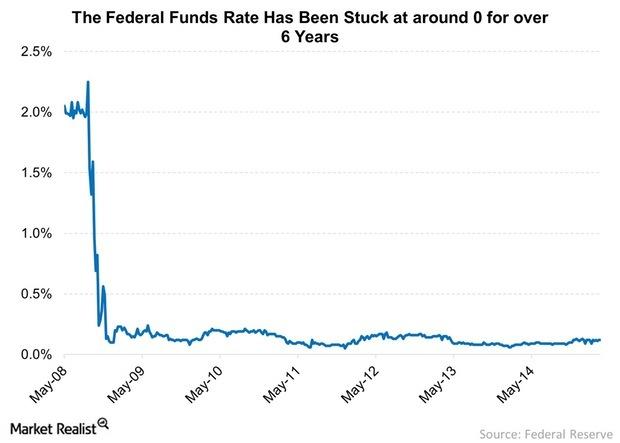 A Softer Rebound Could Move Markets in the 2Q
By Russ Koesterich, CFA

Nov. 20 2020, Updated 3:49 p.m. ET
A softer rebound will give the Fed even more latitude to take its time. 
While the Fed is still likely to start raising rates this fall, we may see only a single hike in 2015, rather than two or three.
Article continues below advertisement
Low long-term yields.
A weak second quarter would provide even more evidence that long-term yields will remain low.
Market Realist – A softer rebound could move markets in the second quarter.
The federal funds rate is a tool that the Fed uses to control the economy's interest rate. The actual interest rate depends on the market mechanism. The rate has been hugging the zero mark for close to seven years, as the graph above shows.
The federal funds rate will likely rise in the back-end of the year. While rates should rise, the increase should be gradual. It shouldn't hurt the economy much since the federal funds rate is still at emergency levels.
However, if the economy remains weak in the second quarter, the Fed has some leeway to maneuver the rate. It can choose to stay put or to raise rates slower, given the Fed's dovish outlook. This could support the equity (IVV) and bond (LQD) (AGG) markets. It has been doing this for the last six years. Low inflation rates also add to the Fed's flexibility.
The second graph shows the yield on the ten-year Treasuries (IEF). The yields dipped from ~2.2% to ~2%. Yields were expected to rise this year due to expectations of a rate hike. However, Treasury (GOVT) yields started dipping after a slew of poor economic data.
If the economy missed expectations in 2Q15, yields could drop more. This would cause another bout in the quest for yield.