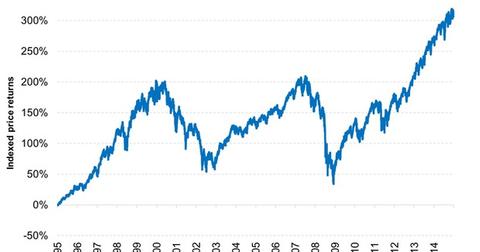 Why You Should Sit Tight through the Market Volatility
By Heather Pelant

Updated
A way to handle the uncertainty is to think about not cashing out or staying on the sidelines. Instead, you should consider the following:
1. Stick to business as usual.
My colleague Russ Koesterich encourages investors to resist the urge to exit, as avoiding the markets can cost you over time. Over the past 2 decades, the S&P 500 provided an annual return of 9.25%, but the average stock fund investor took home just 5% – a little more than half (Source: Dalbar and Bloomberg). Why is that? It is because we often see investors coming in and out of the market, driven by an emotional reaction to normal gyrations.
Article continues below advertisement
Market Realist – Sit tight through the market volatility.
The graph above shows the price returns of the S&P 500 Index (SPY) (VOO) over the last 20 years. In that period, the index has grown ~4.1 times, or 309.1%. This is a CAGR (compounded average growth rate) of 7.3% in price returns alone.
Mind you, there have been two major cuts in the index within the span of eight years. The first one was between 2000 and 2003, when the tech (XLK) bubble popped. The index fell down by 39.0% in that period. The second big cut took place between 2007 and 2009 during the financial crisis. During this period the S&P 500 saw an even bigger cut of 56.6%.
However, since then, the index has gained 205.5% as the bull market enters its seventh year. Technology (QQQ) and biotech (IBB) have been two of the most profitable sectors in that period for investors.
If you get out of the markets at the troughs or thereabouts, as many investors do, you will lose out on a lot of gains. Buy the right stocks and endure the volatile periods.
Bottom line: While equities could be volatile, there are huge gains to be made in the long term.