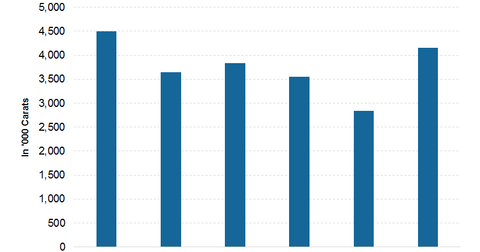 Rio Tinto Lowers 2015 Guidance for Diamond and Mineral Production
By Anuradha Garg

Updated
Diamonds
Following is a summary of Rio Tinto's (RIO) diamond production.
Argyle: At Argyle, carats recovered during 1Q15 were 31% higher year-over-year at 3.2 million carats. This is mainly driven by the underground production ramp-up, which is still continuing. The production was 77% higher quarter-over-quarter due to the maintenance shutdown that took place in 4Q14.
Diavik: Production at Diavik was lower 20% year-over-year and 3% quarter-over-quarter at 899 thousand carats. Lower production reflected lower ore availability as mining progressed through an area of higher dilution as well as crusher plant upgrades completed in the quarter.
Murowa: Carats recovered at Murowa were significantly lower than the comparative periods. Production came in at 40 thousand carats, which was 42% lower year-over-year and 61% quarter-over-quarter. Lower production was due to a planned plant shutdown to reconfigure the processing plant and a decision to reduce production rates pending confirmation that a new 15% export tax did not apply to Murowa.
Article continues below advertisement
Minerals
In 1Q15, borates production was 3% higher than in the first quarter of 2014 in response to higher sales demand and the commissioning of the new modified direct dissolving of kernite (or MDDK) processing plant in the second half of 2014.
Rio Tinto Iron & Titanium
Titanium dioxide slag production for Rio Tinto Iron & Titanium (or RTIT) was 17% lower than in the first quarter of 2014, as production continued to be optimized to align with market demand. Weaker demand has resulted in a decision to take another furnace offline at Rio Tinto (RIO) Fer et Titane (RTFT) in Quebec from April. That means two of RTFT's nine furnaces are now idled.
Article continues below advertisement
Guidance downgraded
In 2015, Rio Tinto's share of production is now expected to be 1.3 million tons of titanium dioxide slag compared to a guidance 1.4 million tons previously due to weaker demand. Guidance for boric oxide equivalent is unchanged at 0.5 million tons.
The company's guidance for diamonds has also been downgraded to 20 million carats compared to 21 million carats earlier.
Rio Tinto's share of uranium production is also unchanged and is expected to be between 5 million and 6 million pounds.
While RIO and BHP Billiton (BHP) have exposure to different product groups, Vale SA (VALE) and Cliffs Natural Resources (CLF) are largely iron ore plays. ETFs that invest in these companies, like the iShares MSCI Global Metals & Mining Producers ETF (PICK), provide a diversified exposure to the metals and mining sector. Combined, BHP, RIO, and VALE contribute 32.9% of PICK's assets. The SPDR S&P Metals and Mining ETF (XME) also provides diversified exposure to the metals and mining space.