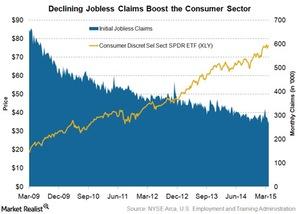 Retailers Lose as Jobless Claims Rise in the US
Retailers lose as jobless claims increase in the US
Retailers like Bed Bath & Beyond (BBBY), Macy's (M), and Costco (COST) dipped 5.43%, 2.58%, and 2.10%, respectively, as jobless claims rose in the US for the week ending April 4, 2015. An increase in jobless claims indicates declining household income. This means lower consumer spending.
However, the Consumer Discretionary Select Sector SPDR ETF (XLY) gained 0.09% and the SPDR S&P 500 ETF (SPY) was up 0.44%. The underlying strength of the US labor market continues to keep investors upbeat.
Article continues below advertisement
Jobless claims were at 281,000
For the week ending April 4, there were 281,000 new claims for unemployment insurance—according to a U.S. Department of Labor report released on Thursday, April 9. The figure came in below the median estimate of about 283,000 claims. However, it was up from the previous week's claim figure of 267,000.
In the US, applications for unemployment benefits increased by 14,000 for the week ending April 4. However, the four-week moving average for jobless claims declined for the third week in a row to 282,250. About a month ago, this figure was nearly 20,000 above the current level.
Declining jobless claims benefit the Consumer Discretionary sector
Investors in the Consumer Discretionary sector are among the first to gain on positive reports from the US labor market. Initial jobless claims show the number of individuals who have filed for unemployment insurance for the first time. The U.S. Department of Labor's Employment and Training Administration comes out with this weekly report. The report is a good indicator for labor market conditions in the US (SPY) (IVV). A decrease in jobless claims bodes well for the labor market. It's also good for the economy's general well-being. It boosts consumer spending.
The above chart shows the trend in initial jobless claims and XLY's price movement. Since the 2009 recession, the US economy saw a declining trend in unemployment insurance claims. As a result, it saw a gain in consumer spending. This is reflected in XLY's upward trend.
There were also certain key indicator releases in the European and Asian continents. Let's take a look.