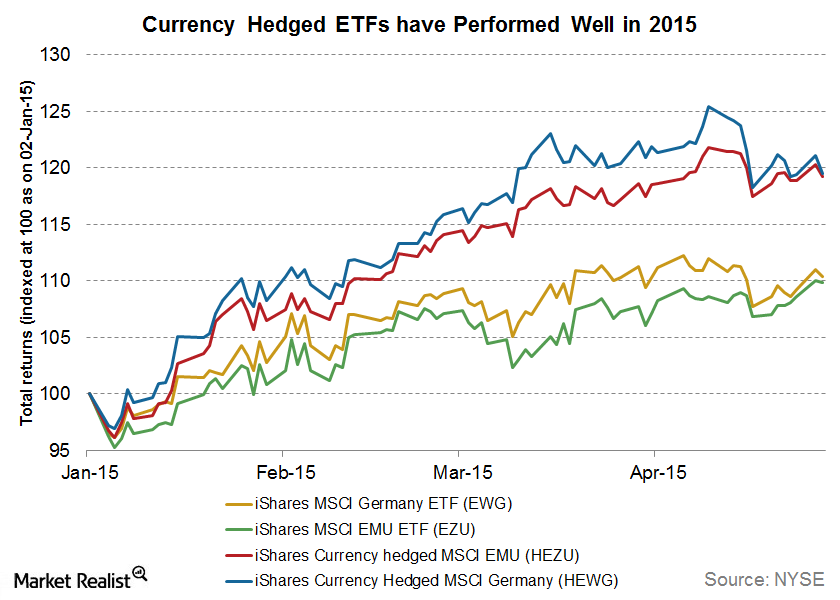 Points to Remember When Investing in Europe
By Heidi Richardson

Apr. 30 2015, Published 12:37 p.m. ET
However, while the European market may benefit from these tailwinds, it's important to consider the possible impact that a further potential weakening of the Euro could have on U.S. dollar-based investments in the region.
Two options to consider when accessing this potential opportunity are the iShares Currency Hedged MSCI Germany ETF (HEWG) and the iShares Currency Hedged MSCI EMU ETF (HEZU). These iShares ETFs invest in German and Eurozone securities, respectively, and seek to mitigate exposure to fluctuations between the value of the euro and the U.S. dollar.
Market Realist – There are a few key points to remember when investing in Europe (VGK) (EZU):
Article continues below advertisement
Due to the increasing strength of the dollar, it is prudent to invest in hedged ETFs (HEDJ) (DXGE) instead of gaining direct exposure. Adopting such an approach could minimize translation risk. The graph above shows the returns from the iShares MSCI EMU ETF (EZU), the iShares MSCI Germany ETF (EWG), and their hedged counterparts. Currency-hedged ETFs are performing much better, as shown above.
Stay cautious of developments in the Greek debt crisis (GREK). Greece continues to be a cause of worry as ongoing talks with creditors have not made much headway. Despite three months of tough negotiations, Greece and its lenders have still not zeroed in on a reform agenda, which is crucial for the extension of the bailout program. The chart above shows the creditors of Greece's massive debt, namely the International Monetary Fund (or IMF) and the European Union.
Without a deal in sight, Greece is likely to face bankruptcy, and the probability of a "Grexit" looms larger. This could cause major turmoil not just in Europe, but in the world markets at large. The chart above shows the timeline for the debt crisis as the country races to prevent a default.
Read on to the next part of this series to learn how you can find opportunities in Japan.