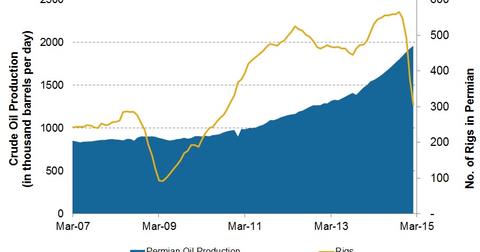 Permian Shale Oil Production Rises in March
By Alex Chamberlin

Apr. 16 2015, Published 12:31 p.m. ET
Permian shale oil production
On April 13, 2015, the U.S. Energy Information Administration (or EIA) released its Drilling Productivity Report (or DPR). The EIA estimates that Permian shale oil production was ~1.96 million barrels per day (or MMbbls/d) of crude oil in March 2015. This was 1.6% higher than February's production and a 27% increase over March 2014.
Higher crude oil production should benefit energy producers operating out of the Permian Basin. The most active oil and gas producers in the Permian Basin include Chevron Corporation (CVX), Occidental Petroleum Corporation (OXY), EOG Resources Inc. (EOG), and Laredo Petroleum, Inc. (LPI). CVX, OXY, and EOG are 21% of the Energy Select Sector SPDR Fund (XLE).
Many midstream companies and MLPs operate in the Permian Basin. These companies generate revenues from crude oil transportation, storage, and delivery. Higher Permian supply should benefit MLPs such as Enterprise Products Partners (EPD), which transports crude oil in the Permian Basin.
Article continues below advertisement
Permian oil production increases 130% in eight years
Crude oil production from the Permian Basin increased from 851,000 barrels per day in January 2007 to 1.96 million barrels per day in January 2015. That's an increase of 130% in eight years.
The horizontal drilling and hydraulic fracturing process has unlocked huge oil reserves in the Permian Basin. The most productive formations are the Spraberry, Wolfcamp, and Bone Spring formations.
Oil production per rig
Drilling efficiency in the Permian Basin has gradually improved over the years. By March, the Permian Basin produced 204 barrels per day (or bbl/d) per rig, a 5% gain in production per rig since March 2014.
Rigs in the Permian
Recently, rigs in the United States have fallen significantly. In March, the number of rigs in the Permian Basin fell to 306 from 375 in February. The Permian Basin rig count was 565 in November last year. This was the highest rig count in the past seven years. You can read more about the Permian Basin rig count in Market Realist's article Permian Basin Rig Count Lowest since August 2010.
According to the Railroad Commission of Texas, production from the Permian Basin totaled ~900 million barrels of oil and 8,171 billion cubic feet of gas in 2014. Out of 264 Permian rigs last week, 260 were oil-targeted.
The Bakken is one of the most prolific crude oil shales in the United States. Read the following part of this series to find out why.