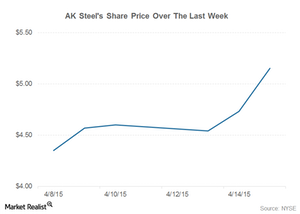 An Overview of the Global Steel Industry in April
The global steel industry in April
Crude oil prices made a sharp upward move on April 15, as crude oil inventories came in lower than expectations. The steel industry (XME) has seen its fortunes change ever since the Oil Producing and Exporting Countries (or OPEC) decided against reducing the daily oil production. Crude oil prices have fallen steeply, and so have steel and iron ore prices. In our recent series on the US steel industry indicators, we made the following observations:
Article continues below advertisement
The steel demand from most sectors, with the exception of energy, remains strong.
Steel production has declined significantly in the first three months of the current calendar year.
Steel imports have declined to their lowest levels since June 2014.
Steel prices have dropped considerably, reducing the incentive for steel imports.
Steel companies delivered handsome returns on Wall Street over the last week. Steel companies like US Steel (X), ArcelorMittal (MT), and Companhia Siderurgica Nacional (SID) have rallied significantly. AK Steel (AKS) has delivered ~18% returns over the last week, as the above chart shows.
What will we cover in this series?
In this series, we'll look at some key indicators of the US steel industry. We'll also analyze the latest trends in the Chinese steel industry. China (FXI) is the world's largest producer, as well as consumer of steel products. The slowdown in China's steel demand and steel imports is a major threat to the global steel industry. We will analyze the latest trend in Chinese steel imports later in this series.
Steel inventories in US metal service centers have surged as a result of a higher level of steel imports. In the next part, we'll analyze the latest trends in US steel inventories.