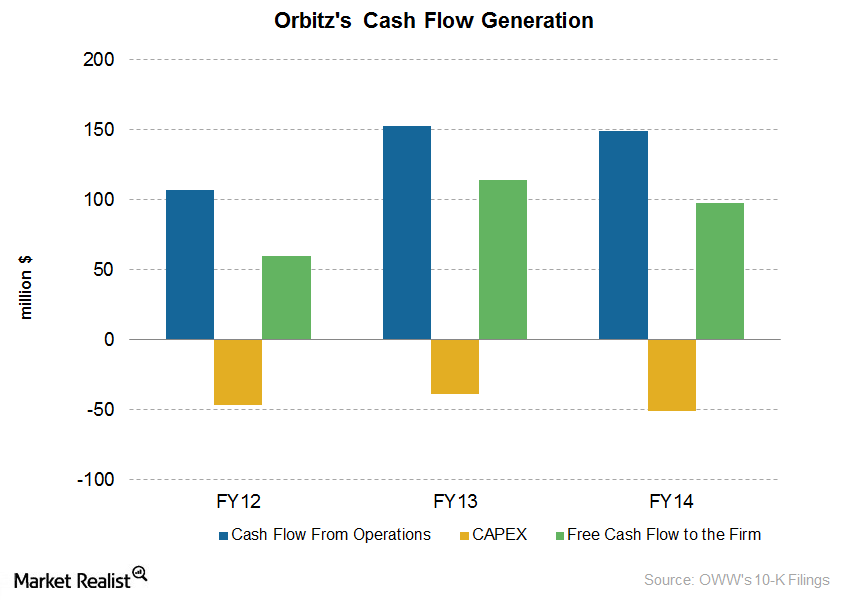 Orbitz's Cash Flow Generation and Credit Profile
Adequate cash flow generation
In the previous part, we took a look at Orbitz Worldwide's (OWW) fiscal 2014 earnings. Now let's look at Orbitz's cash flow generation and credit metrics.
Orbitz Worldwide Inc. (OWW) has an established track record for generating positive operating cash flows. In fiscal 2014, the company was able to generate an operating cash flow of $149 million compared to $153 million in the previous year. Orbitz's cash flow from operations was more than adequate to service maintenance capital expenditure of $51 million made during the year. This left the company with free cash flow of $98 million compared to $114 million in fiscal 2013.
In contrast, rivals Expedia Inc. (EXPE) and Priceline Group (PCLN) were able to generate free cash flows of $1.0 billion and $2.8 billion, respectively.
Article continues below advertisement
Sufficient liquidity and manageable debt levels
Orbitz's balance sheet debt levels remained fairly stable at $448 million at the end of fiscal 2014. Leverage as measured by debt to adjusted EBITDA (earnings before interest, taxes, depreciation, and amortization) decreased slightly to 2.9x from 3.1x at the end of fiscal 2013.
Orbitz has a track record of free cash flow generation. Its existing cash balance is $188 million. It has a fully unutilized revolver facility with a limit up to $80 million. The company also has a fairly long dated debt amortization structure. About 94% of its total debt matures in 2021. All things considered, the company seems well positioned to manage its debt commitments.
Orbitz is speculative grade per Moody's
Moody's assigned a corporate family rating of B2 with a positive outlook in April 2014, implicit of speculative or high yield status. The credit rating assignment has been maintained to date. Any rating below Baa3 by Moody's is viewed as below investment grade quality.
Moody's believes the positive outlook is reflective of Orbitz being well positioned for growth, largely due to its hotel bookings business.
OWW is a component of the SPDR S&P Retail ETF (XRT) and the iShares Russell 2000 Value ETF (IWN), making up 1.32% and 0.03% of the portfolios, respectively.