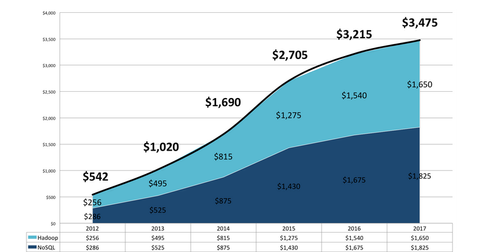 Oracle Launches ODI in April with the Aim to Revolutionize Big Data
By Anne Shields

Apr. 15 2015, Published 8:51 a.m. ET
Oracle launched Oracle Data Integrator for big data space
On April 6, 2015, Oracle (ORCL) added an integration module, Oracle Data Integrator, specifically for its big data suite of offerings. The recent extension of Oracle Data Integrator (or ODI) middleware is designed to screen through data coming from a plethora of sources. ODI simplifies the procedure of linking data in diverse formats, frameworks, and clusters. Clusters could include Hadoop, relational databases, and NoSQL.
Article continues below advertisement
Oracle claims it's a leader in the relational database market, with a revenue share of 48.3%. Oracle also claims it holds a larger revenue share than its four closest competitors combined: IBM (IBM), Microsoft (MSFT), SAP AG (SAP), and Teradata. According to Forrester, players like IBM, Microsoft, Oracle, and Teradata together commanded about 80% of the database market in 2013. For more information, read Why traditional database systems fail to support big data.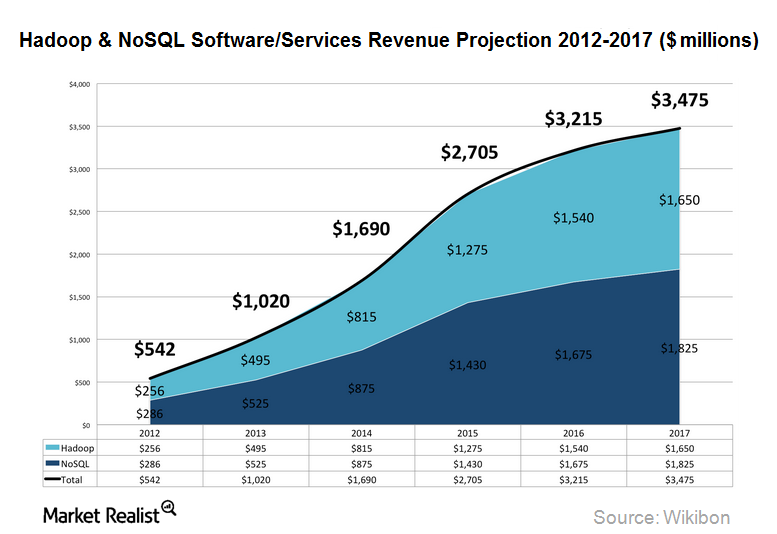 Oracle's data integration portfolio consists of:
Oracle Data Integrator (or ODI) for Big Data
Oracle Data Integrator (or ODI) 12c
Oracle GoldenGate for Big Data
Oracle GoldenGate 12c
To gain diversified exposure to Oracle, you can invest in the iShares US Technology ETF (IYW). IYW invests about 3.92% of its holdings in Oracle.
Recently launched ODI enables users to get insight from databases without any prior coding knowledge
Databases like Hadoop and Spark are targeted towards programmers who have the coding knowledge expertise required to manipulate these databases with knowledge of the coding needed to manage them. On the other hand, analysts usually use software for data analytics.
With Oracle Data Integrator, an analyst without prior knowledge of coding expertise can also utilize Hadoop and similar data sources. With ODI, developers and analysts at the organization no longer require training in multiple programming languages. According to a report from PCWorld, Jeff Pollock, Oracle vice president of product management, said, "The Oracle Data Integrator for Big Data makes a non-Hadoop developer instantly productive on Hadoop."