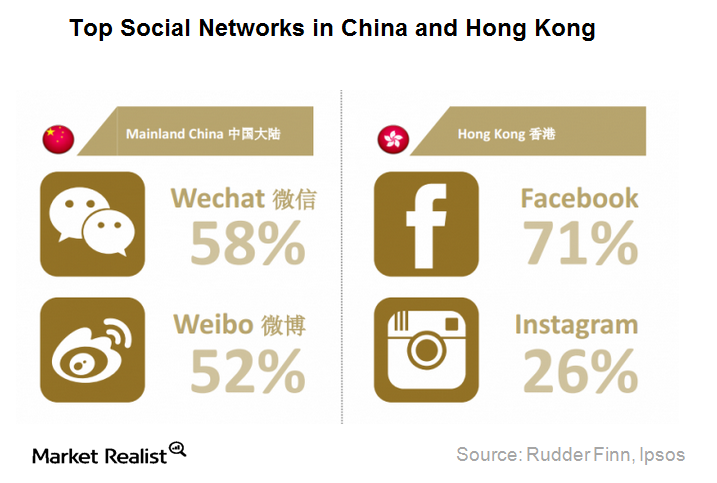 Why Did Oracle Choose to Provide Support to Weibo?
Weibo – a leading social media network in China
Weibo is a Chinese microblogging website. Many people refer to it as the Chinese alternative to Twitter (TWTR). Weibo is used by over 175 million Chinese customers and 800,000 businesses. In March 2015, Oracle (ORCL) Social Cloud extended its support to Weibo. It will provide publishing, engagement, and analytics support for Weibo.
To gain diversified exposure to Oracle, you can invest in the iShares US Technology ETF (IYW). IYW invest about 3.92% of its holdings in Oracle.
Article continues below advertisement
China's internet firewall policy
China has a stringent internet firewall policy. As a result, the social media networks that Chinese consumers use are different from the rest of the world. Instead of using Google (GOOG), Chinese internet users use Baidu to perform searches. Baidu is a search engine. It commands 70% market share in the Chinese search engine market. Since Facebook (FB) and Twitter are banned, Chinese users post messages on Weibo.
As the above chart shows, along with Wechat, Weibo is an extremely popular social media network in China.
Due to China's Internet firewall, businesses are losing out on social analytics in the Chinese market. Oracle added Social Cloud support and expanded its analytics coverage to include Weibo. This is expected to provide a plethora of consumer information that's bound to change this scenario.
Since 2013, Salesforce.com (CRM) has been providing social listening coverage on Weibo. Oracle's stint in the cloud business still has a long way to go. In contrast, Salesforce.com already enjoys a leadership position in the SaaS (software-as-a-service) space.