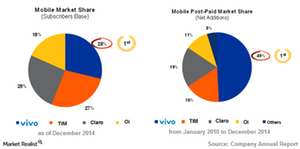 Oaktree Capital Bids Farewell to Telefonica Brasil
By Stuart McKenzie

Updated
Oaktree Capital drops Telefonica Brasil
Oaktree Capital let go of its entire stake in Telefonica Brasi (VIV) by selling all of its 1,626,810 shares in the company.
The company is a 0.05% part of the Vanguard FTSE Emerging Markets ETF (VWO). Investors looking for exposure to emerging markets could also consider the iShares MSCI Emerging Markets ETF (EEM).
Article continues below advertisement
Telefonica Brasil: Company overview
Telefonica Brasil is the largest telecom company in Brazil and is the subsidiary of Spanish telecom company, Telefonica (TEF). Telefonica entered the Brazilian market in 1998 when Telebras's privatization and restructuring were taking place. In 2002, Portugal Telecom and Telefonica formed a joint venture to operate in the Brazilian mobile telecom market. The commercial operations of this venture began under the name Vivo in April 2003.
In 2010, Brazil's consolidation as a global economic competitor was confirmed. This was a vital year for Telefonica, which reinforced its market presence by increasing its stake in Vivo. In 2012, Vivo was launched as the national brand representing all of the company's services in Brazil.
4Q14 revenues miss consensus estimate
The company posted 4Q14 earnings per share of $0.39, which was higher than the consensus estimate of $0.36. However, earnings were down 17% compared to the previous year. Net operating revenue saw a 1.8% increase to 9,047.5 million Brazilian real, missing analyst estimates.
The company's dividend yield is 10.1%, which is significantly higher than that of its peers. China Mobile (CHL) trades at a dividend yield of 3%, Verizon Communications (VZ) has a dividend yield of 4.4%, and AT&T (T) has a dividend yield of 5.6%.
Article continues below advertisement
Positive outlook for the telecom industry in Brazil
In terms of subscriber penetration, Brazil ranked 13th globally in 2013. So, there is tremendous scope for expansion within the Brazilian telecom industry. There's also strong potential for postpaid subscriber growth in Brazil, which is expected to contribute to the adoption of mobile data.
With customers migrating from prepaid services, new services using 4G technology and larger coverage, postpaid mobile subscriptions are expected to experience sustained growth over the next few years. There's also a significant untapped market for smartphones in Brazil. Currently, smartphone penetration there is only 27% as opposed to 55% in the US.
Focus on innovation, quality, and transformation
Telefonica Brasil significantly reinforced the company's competitive position in the Brazilian market in 2014. A strategic focus on innovation and quality in the mobile segment enabled the firm to dominate the higher-value segments. The company captured more than 38% of the net additions in LTE (long-term evolution) services and more than 50% of the net additions in contracts in the telecom market during 2014.
As far as fixed business was concerned, significant transformation processes were executed. This included an accelerated deployment of the fiber network, the connection of  375,000 customers, and coverage being provided to 4.1 million premises. Pay-TV access was also significantly increased, by 20% year-over-year.
In the next part of this series, we'll look at Oaktree Capital's increased position in Dynegy (DYN).