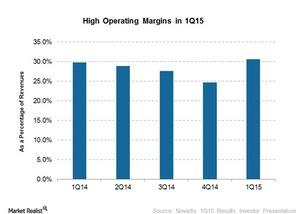 Why Novartis's Operating Margins Expanded in 1Q15
By Nicole Sario

Updated
Improvement in adjusted operating margins
Novartis (NVS) reported adjusted operating margins of 30.6% in 1Q15, up by 0.8% from 1Q14. The currency had a negative impact of 0.9%. On constant currency, it improved by 1.7%. This was on account of productivity gains across functional costs, especially in material procurement. Constant currency reflects a company's performance excluding currency fluctuations. All segments reported margin improvement at constant currency.
Article continues below advertisement
The first quarter margin is usually higher than the remaining three quarters due to higher cost that is being charged in the second half of the year. The company expects to follow the same pattern since it expects higher expenses on account of upcoming launches of LCZ696 (or LCZ) and Cosentyx in the second half of 2015.
Restructuring contributed to margin improvement
Novartis's margin improvement was partially driven by restructuring. Novartis divested its noncore assets and strengthened its core areas. On March 2, 2015, Novartis completed a $20 billion asset swap with GlaxoSmithKline (GSK). Novartis bought the Glaxo oncology unit for $14.5 billion and divested its vaccines business excluding flu to Glaxo for $5.3 billion. Novartis formed a joint venture with Glaxo with a stake of 36.5%. This venture is expected to generate annual revenues of $10 billion.
Novartis sold its animal health business to Eli Lilly and Company (LLY) for $5.4 billion. So with these transactions, Novartis is focusing on three main businesses with better margins.
Margin improvement in two segments
The pharmaceutical margin improved by 1.4%, resulting in an adjusted operating margin of 33.9% in 1Q15. This is due to the reduction of functional costs and ongoing productivity initiatives.
The Sandoz margin improved by 1.2%, resulting in an adjusted operating margin of 18.1% in 1Q15. This was driven by product mix and ongoing productivity improvements, which were partially offset by continued price erosion.
The improvement was offset by the decline in the Alcon margin by 0.1%. This resulted in an adjusted operating margin of 34.9% in 1Q15.
As an alternative to investing directly in Novartis, you might consider pharmaceutical funds such as the iShares U.S. Healthcare ETF (IYH) and the Health Care Select Sector SPDR ETF (XLV). XLV has holdings in Pfizer (PFE), Merck (MRK), and Novartis (NVS).