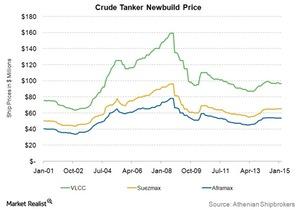 Newbuild Vessel Prices at Consistent Levels
By Katie Dale

Updated
Newbuild vessels
A tanker takes almost two or three-plus years to build, and each costs more than ~$40 million or more, depending on the vessel type and market condition. Unlike shipping rates in the spot market, newbuild prices are less volatile and aren't subject to seasonality.
While newbuild prices and shipping rates have diverged at times, they've more or less followed each other in the past.
Newbuild VLCC (very large crude carrier) prices for the month of February 2015 inched down marginally to $96.3 million, from $96.4 million in January 2015, according to data from an Athenian Shipbrokers report. Newbuild VLCCs are the largest common ship used to transport crude oil over long distances.
February 2015 Suezmax prices stood at $65.1 million compared to $65.3 million in January 2015. Aframax prices stood at $53.5 million compared to $53.6 million in the same period. MR Clean prices stood at $36.3 million in February 2015 compared to $36.5 million in January 2015.
Article continues below advertisement
Newbuild vessels better than secondhand
Lloyd's List, the leading source for the maritime industry, covers all sectors of the shipping world. This includes tankers, containers, ports, and dry bulk. Based on some excerpts from a recent Lloyds List research, buying a newbuild vessel in current times is better than secondhand vessels. Newbuild vessels provide good value for money. Secondhand vessels have risks such as lower charter rates and higher maintenance and insurance costs.
In the newbuilding vessels segment, cheap China-built lower quality vessels with a maximum trading life of 15–18 years are available. Clarksons estimates there are around 100 newbuildings on order in the VLCC industry.
Likely to benefit in this situation are the PowerShares DB Oil Fund ETF (DBO) and tanker companies such as Teekay Tankers Ltd. (TNK), Tsakos Energy Navigation Ltd. (TNP), Frontline Ltd. (FRO), and Nordic American Tanker Ltd. (NAT).