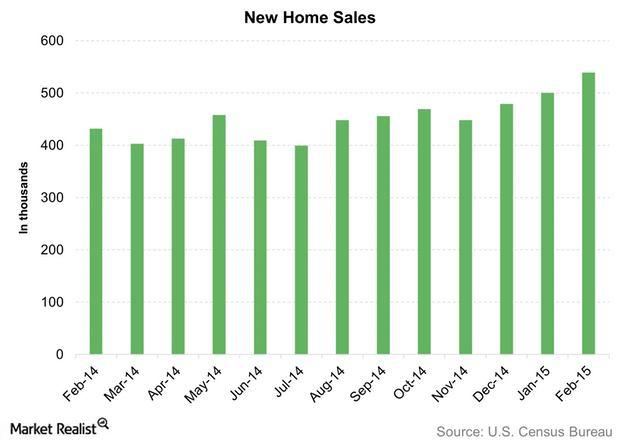 New Home Sales Rose to a 7-Year High in February 2015
New home sales
The report on new home sales is released jointly by the U.S. Census Bureau and the Department of Housing and Urban Development. It's considered to be a leading indicator of economic activity. If more home seekers are purchasing new homes rather than pre-owned homes, it shows the strength of their spending power. The report looks at new, privately owned single-family homes sold in a month. New home sales account for one-tenth of the US housing market.
The Census Bureau states that its new home sales data is based on "the signing of a sales contract or the acceptance of a deposit." This doesn't depend on the stage of construction. The stage can be anywhere from "not yet started" to "already completed."
Article continues below advertisement
February 2015 report
Sales of new single-family homes jumped 7.8% in February 2015 from a month ago. Sales jumped to a seasonally adjusted annual rate of 539,000. This is the highest level since February 2008. January's home sales were revised sharply up to 500,000 from 482,000 reported earlier. On a YoY (year-over-year) basis, new home sales are up by 24.8%. It's important to understand that this report is volatile. As a result, it's subject to large revisions.
A regional breakdown showed that the Northeast reported a 152.9% surge new home sales in February 2015 from a month ago. It appears that even a harsh winter wasn't able to stop homebuyers. The South is the biggest region for these sales. It saw a rise of 10.1% month-over-month to 316,000 new homes. It's important to note that the South and the West are the biggest markets for new homes. The Northeast and the Midwest are far behind in construction activity.
Article continues below advertisement
Inventory
There were 210,000 new houses for sale at the end of February 2015. This is 1.4% lower than the previous month. Considering the current sales rate of new homes, this number indicates supply for 4.7 months. This is the lowest in the past year.
Prices
In the month, the median sales price for new homes sold was $275,500. The median represents the middle-point sales price among all of the prices arranged—whether in an increasing or decreasing order.
Meanwhile, the average price was $341,000. This means that homebuilders sold a higher number of expensive homes. Both the average and median price were down from a month ago. It's important to note that 39% of the new homes sold were in the price range of $200,000–$299,999. Also, 11% of the homes sold cost $500,000–$749,999.
Homebuilders that cater more to entry-level purchasers include PulteGroup (PHM), D.R. Horton (DHI), and Lennar (LEN). Their profitability affects ETFs like the S&P SPDR Homebuilder ETF (XHB). Forecasts for home-related retailers—like Lowe's (LOW) and Home Depot (HD)—are also affected by these reports. A higher number of homes sold means higher business for these retailers.