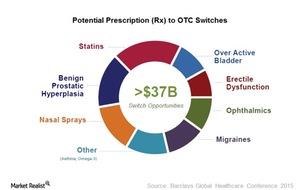 Mylan–Perrigo Merger: Expanding into Over-the-Counter Drugs
By Nicole Sario

Updated
Growth drivers for over-the-counter drugs
Pharmaceutical company Mylan's (MYL) intention to acquire Perrigo became public on April 6, 2015. The acquisition would permit Mylan to expand into the OTC (over-the-counter) product segment.
In fiscal 2014, Perrigo (PRGO) generated more than 50% of its revenues from consumer healthcare products and primarily from OTC products. Because of OTC drugs' growth potential, leading companies such as Teva (TEVA) and Actavis (ACT) have also entered the segment.
Over the past 40 years, the average life expectancy of people has increased by ten years in OECD (Organization for Economic Co-operation and Development) countries, according to the OECD Better Life Index. This has given rise to growing healthcare expenditures.
OTC products generate savings of $102 billion for the US healthcare system annually. These cost savings include ~$77 billion in clinical cost savings and $25 billion in drug cost savings.
Article continues below advertisement
OTC drugs could be branded, generic, or store brand, but all contain the same active ingredients and have the same effectiveness. Branded OTC drugs save six-to-seven times more than branded prescription drugs. Store-brand OTC drugs deliver savings of eight or nine times over branded prescription drugs. The average cost of store-brand drugs is ~36% less than branded OTC drugs.
Potential Rx-to-OTC switches
An Rx-to-OTC switch refers to the transition of approved prescription drugs, or Rx drugs, to nonprescription, OTC status. For more on this topic, read Are Generics the Only Affordable Drugs? This is a highly regulated process that requires FDA (U.S. Food and Drug Administration) approval.
According to Perrigo, branded prescriptions drugs with a sales potential of $18.7 billion will take on OTC status over the next five years. And this represents a significant opportunity because of these three factors:
the lower cost of OTC drugs delivers greater healthcare efficiency
insurance programs are encouraging the use of OTC drugs to reduce their costs
the population is growing and aging
You can capitalize on this growth potential by investing in ETFs such as the First Trust Health Care AlphaDEX Fund (FXH) and the iShares U.S. Healthcare ETF (IYH).