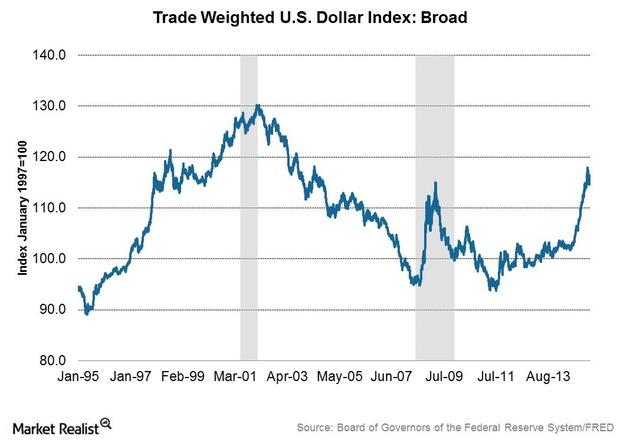 How Much of a Headwind Will US Dollar Present Coach in 3Q15?
By Phalguni Soni

May. 11 2015, Updated 3:05 a.m. ET
US dollar appreciation concerns
Over the past year, the US dollar (UUP) has appreciated compared to most major currencies. The average US dollar trade-weighted index in 1Q15 is up by over 11% compared to 1Q14. Through April 17 of this year, the index has appreciated by 3.4% and is at near six-year highs.
This is likely to be a significant headwind for Coach's (COH) results in its third quarter. The company derives ~35% of its revenue from overseas, mostly from Japan, China, and Europe. The company already dialed down its forecast for Europe (VGK), from $100 million to $90 million in fiscal 2015, at its last earnings call.
Article continues below advertisement
Coach is also likely to face headwinds in Japan as a result of a consumption tax being implemented there last year. The company is projecting a double-digit decline in store sales in Japan—in yen terms—due to the year-over-year distorting impact of the consumption tax, which came into effect last April.
Improving Europe retail scene
The impact of adverse forex (foreign exchange) movements on international revenues may be mitigated somewhat by a stronger retail environment in Europe. The additional liquidity and lower interest rate environment brought about by the European Central Bank's bond-buying program is likely to positively impact consumption in the Eurozone, particularly for consumer discretionary (XLY) (RXI) items. Consumption is also getting a boost in Europe due to the unexpected windfall from lower energy prices.
The world's largest luxury goods company, Louis Vuitton Moet Hennessey (LVMUY) (MC.PA), reported a 16% increase in 1Q sales to 8.3 billion euros. Organic sales rose by 3% in constant currency terms.
The retail environment in the UK (EWU) has also improved. According to the Office for National Statistics, retail sales there have grown for five successive months and increased by 0.7% in February.
China stimulus
Coach is expecting to generate sales of ~$600 million in China (FXI) this fiscal.[1. year ended June 30, 2015] China's economic growth slowdown could affect 3Q15 results. But it's more likely to affect higher-end brands than mid-level brands like Coach.
These effects may mitigate somewhat in 4Q, as recent stimulus measures announced by the People's Bank of China may benefit affordable luxury brands like Coach. Also, travel from the mainland to Hong Kong, Macau, and other destinations over the past few months has slowed. Higher market liquidity may stimulate Chinese travel again, proving bullish for luxury brands including Coach (COH), Michael Kors (KORS), Ralph Lauren (RL), and Kate Spade (KATE).