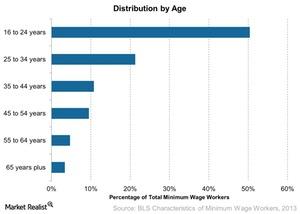 Who Are Minimum Wage Workers in the US?
By Adam Jones

Apr. 14 2015, Updated 8:07 p.m. ET
Minimum wage workers
So far in this series, we've looked at the typical minimum wage occupations and at how the US government is dealing with the issue of minimum wages. But who are these minimum wage workers? What are some of their characteristics?
About 50% of minimum wage workers are between the ages of 16 and 24, according to a BLS (U.S. Bureau of Labor Statistics) report. This age group mostly consists of students enrolled in school and college who can't take up a full-time job.
A regular full-time work week is 40 hours, but the highest number of workers, 64.4%, work only part-time, according to the report. A full 57% of part-time workers work between 0 and 34 hours per week. Only 19.9% of minimum wage workers work 40 hours per week, and 2% work 41 hours or more.
Article continues below advertisement
Restaurants hiring more part-time workers
According to a report by The Wall Street Journal, "Restaurant Shift: Sorry, Just Part-Time," US employers added more part-time workers than full-time in 2013. This was just a year before the Affordable Care Act went into effect on January 1, 2014. The Affordable Care Act requires that employers provide insurance to its full-time employees, which could potentially increase their costs.
Hiring part-time employees eliminates the need to comply with this new law and so reduces cost burdens. A restaurant's labor cost can be as much as one-third of sales generated. For example, McDonald's (MCD) labor costs amount to about 28% of sales. The case is the same for restaurant stocks such as Dunkin' Brands (DNKN), Buffalo Wild Wings (BWLD), and Texas Roadhouse (TXRH). Some of these restaurants are also included in the consumer discretionary sector (RXI)(XLY). XLY invests 37% of its portfolio in the retail sector.