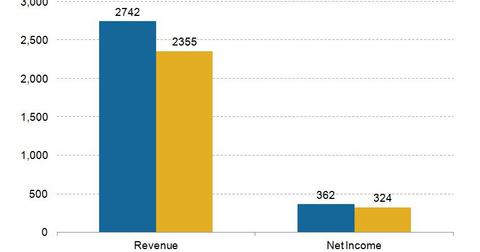 Maverick Capital Sells Position in Cognizant Technology Solutions
By Patricia Garner

Updated
Maverick Capital and Cognizant Technology Solutions
Maverick Capital sold its position in Cognizant Technology Solutions, which accounted for 2.65% of the fund's portfolio. The fund held 3,375,000 shares of Cognizant Technology Solutions.
Cognizant Technology Solutions makes up 0.21% of the SPDR S&P 500 ETF Trust (SPY) and 0.98% of the Technology Select Sector SPDR Fund (XLY). SPY tracks the overall performance of 500 publicly traded companies in the growth sector, whereas XLY tracks the performance of 73 publicly listed companies in the technology sector.
Maverick Capital also added a new position in technology company Google (GOOG) during the fourth quarter.
Article continues below advertisement
Cognizant's 4Q14 and fiscal 2014 results beat estimates
In February 2015, Cognizant Technology Solutions announced its 4Q14 results and reported revenues of $2.74 billion, up 16.4% from $2.36 billion in 4Q13. The net income in 4Q14 was $362.9 million, or $0.59 per diluted share, compared to $324.3 million, or $0.53 per diluted share, in 4Q13. The increases in sales revenues were mainly driven by a 26% increase in the firm's healthcare segment.
The highlights for 2014 include:
Revenue increased by 16.1% when compared with 2013, with sales of $10.26 billion.
EPS (or earnings per share) was $2.35 per share, compared with $2.27 per share in 2013.
On the back of its exceptional performance for fiscal 2014, Cognizant Technology Solutions expects sales in the region of $2.88 billion for 1Q15. The company also estimates full-year revenues to be $12.21 billion, a 19% increase compared with 2014.
CTSH completes acquisition of TriZetto
In November 2014, Cognizant Technology Solutions announced it had completed its acquisition of TriZetto in a $2.7 billion deal. This acquisition will help Cognizant to increase its presence in the healthcare business segment.
In a September 2014 press release, Cognizant CEO Francisco D'Souza stated, "Healthcare is undergoing structural shifts due to reform, cost pressure and shifting responsibilities between payers and providers. This creates a significant growth opportunity, which TriZetto will help us capture."
Article continues below advertisement
Family Dollar ties up with CTSH to improve business responsiveness
In February 2015, Family Dollar Stores (FDO) announced its tie up with Cognizant Technology Solutions in order to improve its business responsiveness and to enhance the operations of its 8,000-plus stores across 46 states. The three-year tie partnership with the IT giant will help Family Dollar Stores to improve its operational performance and to cut costs.
Family Dollar Stores will deploy Cognizant's enterprise cloud product Cloud360, a platform that enhances the company's ability to monitor, analyze, and optimize its cloud operations.
Cognizant Technology Solutions overview
Cognizant Technology Solutions (CTSH) is a leading provider of information technology, consulting, and business process services. Its clients include some of the world's most prominent companies. Cognizant employs more than 200,000 people, and it has delivery centers in the United States, the UK, Canada, India, Hungary, China, the Philippines, Brazil, Mexico, and Argentina.
The next article in this series explores Maverick Capital's position in Ashland.