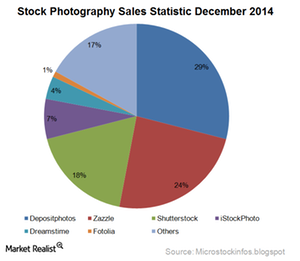 Maverick Capital Reduces Stake in Adobe Systems
Maverick Capital and Adobe Systems
During 4Q14, Maverick Capital decreased its position in Adobe Systems (ADBE) by over $134 million. Adobe now accounts for 3.22% of the fund's total 4Q14 portfolio.
Article continues below advertisement
Adobe completes Fotolia acquisition
On January 28, Adobe completed its $800 million acquisition of Fotolia, a marketplace for stock content. Fotolia offers affordable creative imagery. Its library includes royalty-free photos, images, graphics, and high definition video.
David Wadhwani, senior vice president of Digital Media at Adobe, said, "Fotolia is helping Creative Cloud become the marketplace for creatives to buy and sell high-impact assets, find talent and promote their work in front of an influential global community."
The stock photography market is highly consolidated
Article continues below advertisement
Fourth-quarter results beat guidance
4Q14 revenue grew 3% year-over-year, or YoY, to $1.073 billion. This result was at the higher end of Adobe's guidance range of $1.025 billion to $1.075 billion.
New Creative Cloud subscriptions grew by 644,000 to over 3.45 million, exceeding the annual target. Digital Media revenue was $649 million. Adobe Marketing Cloud achieved record bookings in 4Q14 with record revenue of $330 million. Marketing Cloud bookings also exceeded the company's annual growth target of 30% due to big deals with companies including Ford (F), FedEx (FDX), MasterCard, and Morgan Stanley (MS). GAAP (generally accepted accounting principles) diluted EPS (earnings per share) were $0.14.
In full-year 2014, Adobe's revenue was $4.147 billion. GAAP EPS was $0.50. Creative Cloud subscriptions grew by more than 2 million to reach 3.454 million.
Stockholder returns
During the fourth quarter, Adobe repurchased 1.8 million shares for $127 million. In the full-year 2014, the company repurchased 10.9 million shares for $689 million. The company's board of directors approved the share repurchase of $2 billion, which will last through to the end of 2017.
Investors can gain exposure to Adobe Systems by investing in the Sector SPDR Trust SBI Interest (XLK). Adobe accounts for 0.9% of XLK.
About Adobe Systems
Adobe Systems is one of the largest and most diversified software companies in the world. The company markets and licenses its products and services directly to enterprise customers through its own sales force and to end users through app stores and at adobe.com. Adobe offers many of its products via a software-as-a-service, or SaaS, model, or a managed services model. Products are also offered through term subscription and pay-per-use models.
As well, the company distributes certain products and services through a network of distributors, value-added resellers, systems integrators, independent software vendors, retailers, and original equipment manufacturers.
The company operates in three segments:
Digital Marketing
Digital Media
Print and Publishing
In the next part of this series, we'll review Maverick's position change in McKesson (MCK).