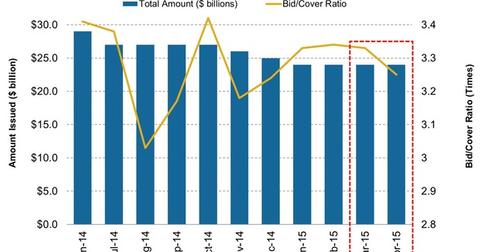 Market Demand Up for 3-Year Treasury Notes at April Auction
By David Ashworth

Updated
Borrowing amount maintained
The Department of the U.S. Treasury holds monthly auctions of three-year Treasury notes. Yield on three-year Treasury notes is related to movements in the federal funds rate. As a result, these auctions attract a lot of attention from stock and bond (BND) (AGG) market participants.
Exchange-traded funds such as the iShares 1-3 Year Treasury Bond ETF (SHY) have holdings in three-year Treasury notes.
The borrowing quantum at the April auction was maintained from March's auction at $24 billion.
Article continues below advertisement
Key takeaways
The auction was held on April 7.
The auction size was set at $24 billion—the same as in March.
The issue's coupon rate was set at 0.75%—25 basis points lower than at the March auction.
The high yield at April's auction was lower at 0.865%—the lowest since March 2014—compared to 1.104% in March.
Demand analysis
The bid-to-cover ratio is an important demand indicator. It's the total value of bids received divided by the value of securities on offer. A higher ratio implies higher demand and vice versa. Demand for three-year Treasury notes was lower in April, marking the second successive decline. The bid-to-cover ratio fell by 2.4% month-over-month to 3.25x at April's auction. In 2015 to date, the ratio has averaged 3.31x, the same as the average at the auctions held in 2014.
Article continues below advertisement
Market demand at the auction was higher month-over-month. It came in at 60.5% of competitive bids compared to 59.5% in March. Indirect bidders accounted for 49.4% of the bids. This was down from 51.4% last month. Indirect bids include foreign central banks. On the other hand, the percentage of direct bids rose to 11.1% from 8% month-over-month. Direct bidders include money managers such as Wells Fargo (WFC) and Invesco (IVZ).
Due to the rise in market demand, primary dealer allotments were lower at 39.5% of the competitive accepted bids, down from 40.5% a month ago. Primary dealers include companies such JPMorgan Chase  & Co. (JPM).
Demand
Demand for three-year notes was the highest among all notes and bonds auctions last week, though it wasn't stellar. Yield on three-year Treasury notes moved higher in the secondary market after the auction. It ended April 7 at 0.85% compared to 0.83% on April 6.
Services activity in the US expanded  in March. We'll look at that in the next article of our series.