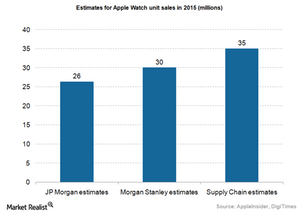 How Many Watches Should You Expect Apple to Sell?
BMO Capital lowered its Apple Watch estimates
Apple (AAPL) is all set to release its Watch on April 24. The product will launch in nine countries, which include the United States and the United Kingdom, according to a press release from Apple. According to a recent report from Barrons citing BMO Capital Market, only 9% of people who have an iPhone are likely to buy an Apple Watch. This insight came from the latest survey conducted by BMO on 735 consumers.
Article continues below advertisement
Based on the survey, BMO is now lowering its unit estimates for Apple Watch to 39 million for April 2015 to September 2016. Previously, BMO had estimated unit sales of 55.5 million Watches for the same period. Although BMO has lowered its estimates, other firms are bullish about the Apple Watch's prospects.
For example, according to a note provided by JP Morgan to AppleInsider, Apple could sell about 26 million Watches by the end of calendar 2015. A Morgan Stanley (MS) note suggested that the company could sell 30 million Apple Watches this year, as the chart below shows. According to another report by DigiTimes that cites industry sources, Apple could manufacture 30 million to 40 million Apple Watch units in its first year.
Competitors have failed to create much hype
These are high expectations, especially when you consider that competitors have failed to get as much hype as Apple is generating with its Apple Watch. For example, according to a report from Canalys, only 720,000 Google (GOOG)(GOOGL) Android Wear devices shipped in 2014 after the product line's release in June that same year.
Among the vendors who deployed Android Wear were Motorola, LG, ASUS, and Sony (SNE). The Canalys report also notes that a total of 4.6 million smart wearable bands shipped and that Pebble shipped 1 million devices last year.
If you're bullish about the Apple Watch's prospects, you could get diversified exposure to Apple by investing in the Technology Select Sector SPDR (XLK), which invests 18% of its holdings in Apple.