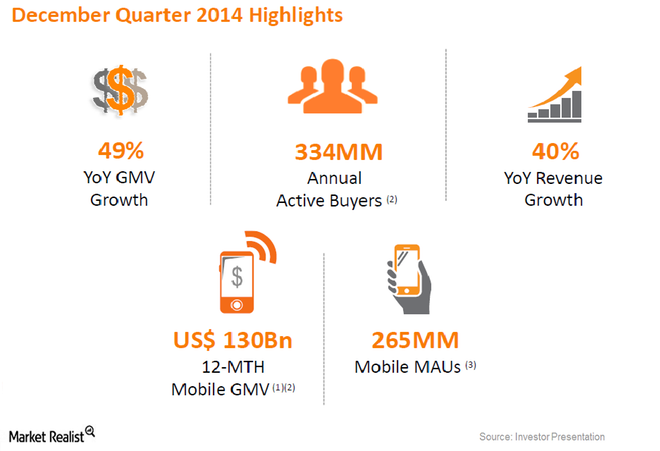 Magnetar Raises Its Stake in Alibaba
By Santiago Solari

Apr. 11 2015, Updated 7:05 p.m. ET
Magnetar and Alibaba
In 4Q14, Magnetar Capital increased its position in Alibaba (BABA) by purchasing 1.7 million shares. Currently, the position accounts for 7.6% of the fund's portfolio.
Article continues below advertisement
About Alibaba
Founded in 1999, Alibaba is the largest e-commerce player in China. Its services range from online shopping and travel booking to cloud computing. It's the largest online and mobile commerce company in the world—in terms of GMV (gross merchandise volume). Alibaba's $25 billion IPO (initial public offering) in September 2014 received an overwhelming response. It was the largest IPO in history.
Other e-commerce players include eBay (EBAY) and Amazon (AMZN). Both of these companies are part of the SPDR S&P 500 ETF (SPY). Their portfolios weigh 0.37% and 0.77%, respectively.
Revenue misses estimates
Alibaba's 3Q15 revenue grew by 40% YoY (year-over-year) to $4.22 billion, but missed consensus estimates of $4.45 billion. The revenue growth was driven by higher revenue from China's mobile commerce retail business. There was a greater proportion of GMV generated on mobile devices. Also, there was an increase in the mobile monetization rate.
For China's retail marketplaces, the GMV increased by 49% YoY due to an increase in active users. This was offset due to category expansion. Mobile GMV accounts for 42% of total GMV transacted in China's retail marketplaces. It experienced a 213% increase YoY in 3Q15 due to growth in mobile MAUs (monthly active users) and an increase in user spending levels. Mobile MAUs grew 95% YoY to 265 million at the end of December 2014.
The company's net earnings adjusted for one-time charges increased 25% YoY to $2.1 billion in 3Q15. Non-GAAP (generally accepted accounting principles) diluted EPS (earnings per share) increased 13% to $0.81 in 3Q15 from the same quarter a year ago. This beat analysts' estimates of $0.75.
Article continues below advertisement
Accusations of transacting fake goods
On January 28, 2015, China's SAIC (State Administration for Industry and Commerce) accused Alibaba of selling fake, illegal, dangerous, or substandard products on its marketplace platforms—Taoboa and Tmall. For years, the Chinese government remained silent despite several complaints of counterfeit products being sold on the company's e-commerce websites. This accusation comes in the wake of the company's plans to expand into banking, retail, and e-hailing. It creates hurdles for Alibaba to execute these plans successfully.
Initially, the company retaliated against the accusations by charging the Chinese government with bias. However, the company agreed to take more preventive measures against fake goods being sold online. On February 13, 2015, Alibaba announced that it's cooperating with the SEC (U.S. Securities and Exchange Commission) in relation to its interactions with Chinese regulators. Alibaba shares slid by $0.51 to $88.54 after the company's announcement.
In the next part, we'll discuss Magnetar's increased position in TransCanada.