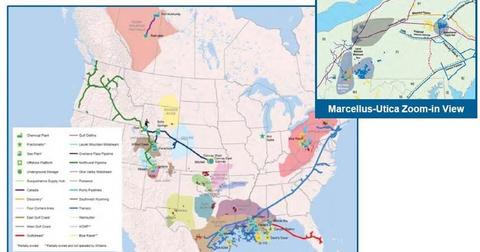 Magnetar Raises Its Position in Williams Companies
By Santiago Solari

Updated
Magnetar and Williams Companies
Magnetar raised its stake in Williams Companies during the fourth quarter by purchasing 1.5 million shares. This took its total holdings in the company to 3.1 million shares. It represents 2.59% of the fund's 4Q14 portfolio.
Article continues below advertisement
Exposure to the energy sector
The fund's exposure to the energy sector was well over 60%. It has positions in Spectra Energy (SE), Williams Companies (WMB), Cheniere Energy (LNG), Plains Group Holdings LP (PAGP), Anadarko Petroleum (APC), Halliburton (HAL), and TransCanada (TRP)—among others. You can gain exposure to Williams Companies by investing in the Energy Select Sector ETF (XLE). Williams Companies accounts for 3.01% of XLE.
About Williams Companies
Williams Companies is in the business of energy transport and processing infrastructure. Its diversified operations include interstate gas pipelines, local midstream operations, and olefins production.
Its assets are predominantly located in the US. However, they also extend into operations related to oil sands processing in Canada.
Williams Companies generates its revenue through its subsidiaries. These include:
Article continues below advertisement
Williams Partners – Williams Companies owns a 64% LP (limited partner) interest and a 100% GP (general partner) interest in Williams Partners LP (WPZ). Williams Partners is a MLP (master limited partnership) that holds the majority of Williams Companies' gas pipelines and midstream operations domestically.
Williams NGL & Petchem Services – This subsidiary primarily consists of Williams Companies' Canadian midstream business. It produces olefins—an unsaturated chemical compound like NGLs (natural gas liquids)—for petrochemical feedstocks.
Closes ACMP and WPZ merger
On July 1, Williams Companies completed the acquisition of Access Midstream Partners from Global Infrastructure Partners II for $5.99 billion. The deal accelerated Williams Companies' transformation to a pure-play GP holding company structure.
At that point, it also indicated that it's considering the merger of Williams Partners with Access Midstream Partners—subject to board members' approval. Williams Companies proposed merging Williams Partners into Access Midstream Partners—at a ratio of 0.866 Access Midstream units per Williams Partners' unit.
Williams Companies expects that the transaction will be complete by 2015. In February 2015, Williams Companies announced that the deal closed. These mergers are set to increase Williams Companies' scale of operations and natural gas production profile in North America.
Controlling interest in Utica East Ohio Midstream
Currently, Williams Partners has a 49% equity interest in Utica East Ohio Midstream (UEO)—a subsidiary of EV Energy Partners LP (EVEP). It announced that in April 2015 it will increase its stake in Utica East Ohio Midstream by another 21%. Utica East Ohio Midstream operates a midstream natural gas business in the Utica Shale region. It earns fixed fees for providing infrastructure for gathering, compressing, processing, and fractionation natural gas and NGLs (natural gas liquids). The deal is valued at $575 million. It's set to unlock value through an improved asset profile and with the addition of long-term fixed-fee business. After it's complete, it will provide Williams Partners with a more stable stream of earnings.
In the next part of this series, we'll discuss Magentar's increased position in Plains Group Holdings.