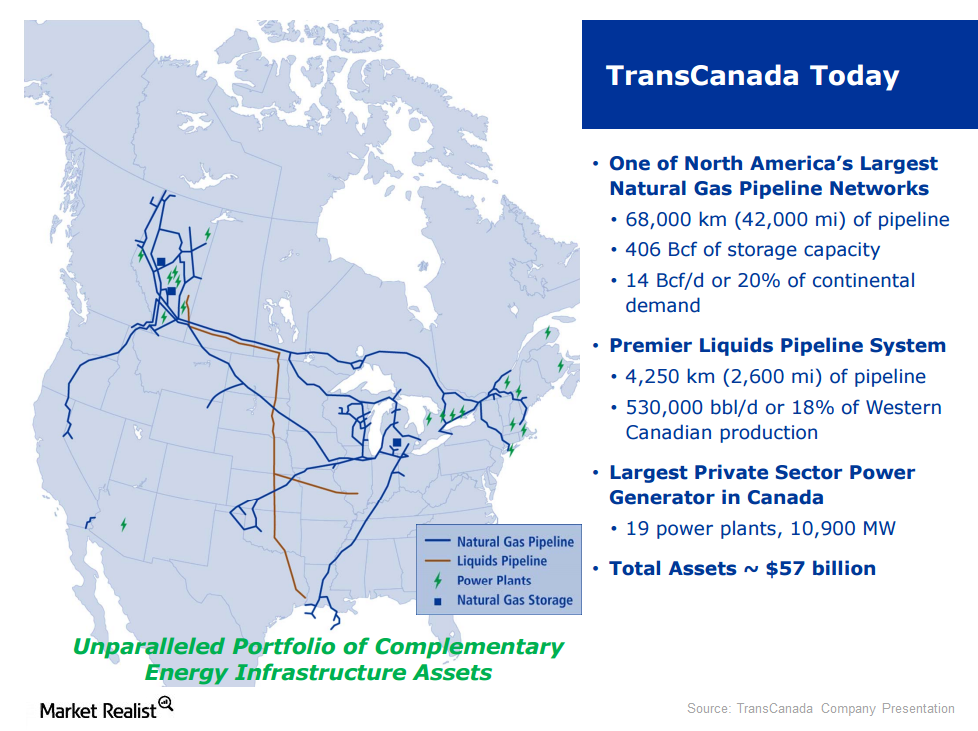 Magnetar Increases Its Position in TransCanada
By Santiago Solari

Apr. 11 2015, Updated 9:05 p.m. ET
Magnetar and TransCanada
In 4Q14, Magnetar Capital added to its position in TransCanada (TRP) by purchasing 2.6 million shares. The position accounts for 6.68% of the fund's fourth quarter portfolio.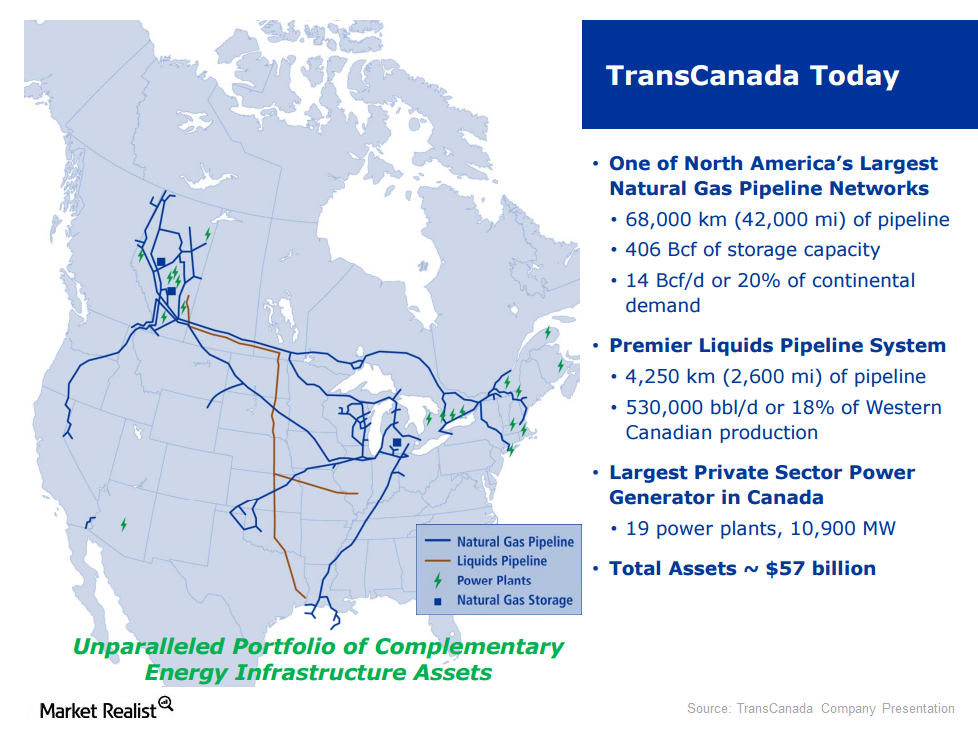 Article continues below advertisement
Overview of TransCanada
With revenue in excess of $10 billion, TransCanada is a North American energy infrastructure company. The company operates through three segments:
Natural Gas Pipelines – 48% of the revenue
Liquids Pipelines – 15% of the revenue
Energy – 37% of the revenue
TransCanada had total assets worth $58.9 billion at the end of fiscal year 2014. It's one of the leading natural gas pipeline networks in North America—covering 68,000 kilometers. It's the third largest natural gas storage operator in North America. It has a storage capacity of 406 Bcf (billion cubic feet). TransCanada is the largest private sector power generator in Canada. It has 19 power plants spread across the US and Canada. The power plants have a total capacity of 11,800 MW (megawatts).
Some of the largest midstream companies operating in the US include TransCanada, Enbridge (ENB), Williams Companies (WMB), and Enterprise Product Partners (EPD). All of these companies are part of the Alerian Energy Infrastructure ETF (ENFR). TransCanada accounts for 4.83% of ENFR. It accounts for 1.79% of the iShares North American Natural Resources ETF (IGE)
Article continues below advertisement
Completes sale of Gas Transmission Northwest
In April 2015, TransCanada sold its 30% stake in Gas Transmission Northwest (GTN) to TC Pipelines LP (TCP). The transaction was valued at $446 million. Gas Transmission Northwest transports natural gas from the Western Canada Sedimentary Basin and the Rocky Mountains to Washington, Oregon, and California. As part of the deal, TransCanada received $253 million in cash. TC Pipelines assumed $98 million of Gas Transmission Northwest's debt through the issuance of Class B units worth $95 million.
Keystone XL project is still delayed indefinitely
The $8 billion Keystone XL project has been under review by the US government on environmental grounds since 2010. The project includes a 1,179-mile pipeline that connects Alberta, Canada, and Steele City, Nebraska. It has the capacity to transport 830,000 barrels of oil per day. In January 2015, the Nebraska Supreme Court ruled in favor of the project's proposed route through Nebraska.
However, the project experienced a setback when the EPA (U.S. Environmental Protection Agency), after assessing the environmental impact, stated that the project could lead to higher greenhouse emissions. The project suffered another blow when the Senate failed to override President Obama's veto. This halted the pipeline's construction. Project supporters are still optimistic. However, it could take a couple of years before TransCanada can maneuver around the regulatory hurdles.
Fourth quarter performance
TransCanada's revenue grew 12% YoY to $2.6 billion in 4Q14—driven by higher revenue from natural gas and liquids pipelines' segments. The net income grew by 9% over the same period to $458 million. The revenue growth was partially offset by more than proportional growth in operating costs.
In the next part of this series, we'll discuss Magnetar's increased position in Williams Companies.