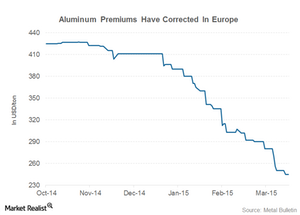 Why Do Lower Aluminum Premiums in Europe Impact Alcoa?
By Mohit Oberoi, CFA

Apr. 17 2015, Updated 9:09 a.m. ET
Aluminum premiums in Europe
Aluminum premiums in the United States have corrected by almost a quarter in 2015. We covered this in detail in our previous part. However, the decline in aluminum premiums in Europe has been even more severe. As of April 10, the average duty unpaid premium in Europe (IEV) was $245 per metric ton, as estimated by Metal Bulletin.
Article continues below advertisement
Aluminum premiums in Europe
The above chart shows the trend in aluminum premiums in Europe. Aluminum premium there went up ~85% last year. The US Midwest aluminum premiums more than doubled over this period. Aluminum demand in the United States has been relatively strong compared to the European market.
However, aluminum premiums in Europe have corrected by more than 42% from their peak in 2014. US Midwest aluminum premiums lost just a little more than a fifth of their peak value. US Midwest aluminum premiums peaked at $0.24 per pound in February this year.
Regional dynamics
Aluminum premiums are also impacted by regional dynamics. However, there's a strong correlation between premiums in different regions. Aluminum premiums in Europe started showing signs of weakness toward the latter part of last year.
US aluminum premiums started correcting only toward the end of February this year. Several analysts expect premiums to fall further this year. While this may be good news for aluminum consumers like Coca-Cola (KO) and Boeing (BA), revenues for aluminum producers like Alcoa (AA) and BHP Billiton (BHP) would be negatively impacted. Alcoa currently forms 0.89% of the iShares North American Natural Resources ETF (IGE).
One of the reasons behind the recent decline in aluminum premiums is growing aluminum exports from China. In the next part, we'll analyze the latest trends in Chinese aluminum exports.