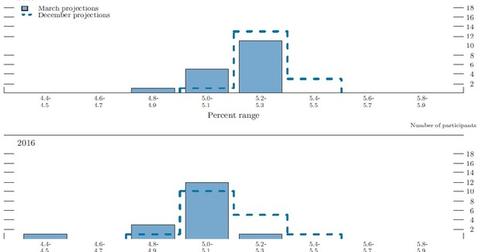 Is the Labor Market Paving a Path toward Policy Patience?
By David Ashworth

Updated
The latest non-farm payroll release
Amid all the uncertainty in the US economy, one thing seems to stand out—the robust labor market. But it can't stand on its own when other aspects of the economy are showing signs of weakness.
The minutes of the FOMC's (Federal Open Market Committee) March 2015 meeting had all good things to say about the US labor market, except for a few not-so-good spots. The March 2015 non-farm payrolls report, released in early April, was a dampener. The release shows that US non-farm payrolls increased by just 126,000 jobs in March 2015—the least since December 2013. On top of that, payroll additions for January and February were revised downward.
Article continues below advertisement
Could this delay policy action?
Equities rose, with the SPDR S&P 500 ETF Trust (SPY) rising by 0.7% on April 6, the first day markets had to react to the April 3 release. Utility stocks, which have been among the biggest beneficiaries of an easy monetary policy, rose, pushing the Select Sector Utilities Select Sector SPDR Fund (XLU) up by 1.4% on April 6.
The only positive in that release was that average hourly earnings rose seven cents month-over-month in March to $24.86, following a rise of three cents in February. Recently, Walmart (WMT) and Target (TGT) announced pay hikes, and McDonald's (MCD) will increase pay this summer.
Reading too much into a single release is never a good idea. This is especially true when the indicator in question is subject to large revisions. However, if the next release also shows subdued job additions, it could certainly push back the rate hike. Policymakers will have little reason to adopt an aggressive stance with both labor market indicators and inflation showing weakness.
Policymakers may have been united in dropping "patience" from the monetary policy statement in March. But they were divided as far as reading the path of indicators and monetary policy was concerned. Let's look at that in the next article.