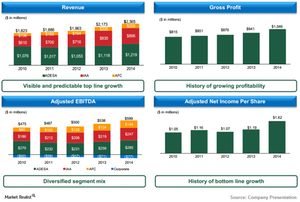 KAR Auction Services Gets Bumped Up Slightly by TPG-Axon
By Stuart McKenzie

Apr. 17 2015, Published 10:47 a.m. ET
TPG-Axon's holdings in KAR Auction Services
TPX-Axon Capital Management added to its holdings in KAR Auction Services, Inc. (KAR) by increasing the number of shares held in the company from 4,889,498 to 4,978,837. KAR forms 12.95% of the fund's 4Q14 portfolio. The stock is part of the Vanguard Small-Cap Value ETF (VBR) with an exposure of 0.32% and part of the iShares Morningstar Mid-Cap ETF (JKG) with an exposure of 0.31%.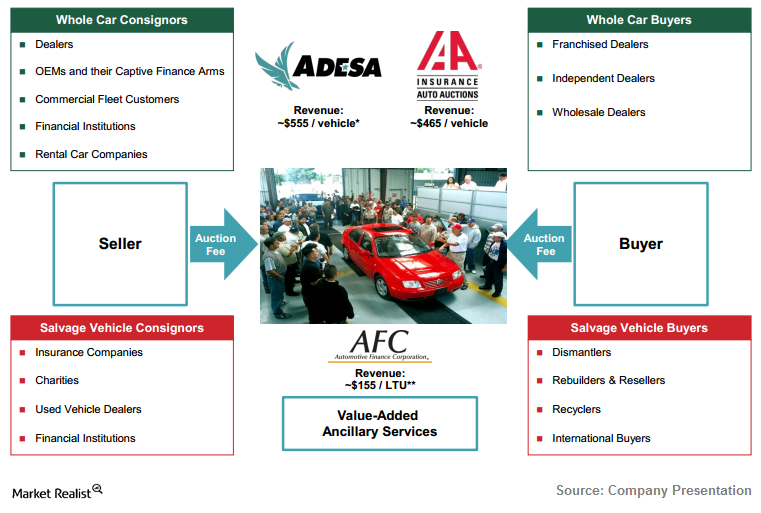 Article continues below advertisement
ADESA to acquire DataScan
According to a company press release dated March 23, 2015, ADESA, one of KAR's business units, announced that AutoVIN, an ADESA subsidiary, has agreed to acquire DataScan Field Services' vehicle inspection business.
Stéphane St-Hilaire, ADESA's chief executive officer and president, stated, "This acquisition will provide an unmatched offering by combining DataScan's innovative technology for capturing vehicle information and communicating customer data with AutoVIN's vehicle inspection expertise and ADESA's renowned customer service." The merged businesses are expected to better serve clients' vehicle inspection needs.
Strong 4Q14 and 2014 results
KAR Auction Services (KAR) reported 4Q14 revenues of $606 million, a 12% increase over 4Q13 figures. Gross profit for the quarter increased 11% on a year-over-year basis to $262 million. Adjusted EBITDA (earnings before interest, taxes, depreciation, and amortization) was $149 million, an increase of 13% on a year-over-year basis. Adjusted net income per diluted share grew by a huge 54% to $0.40 in 4Q14.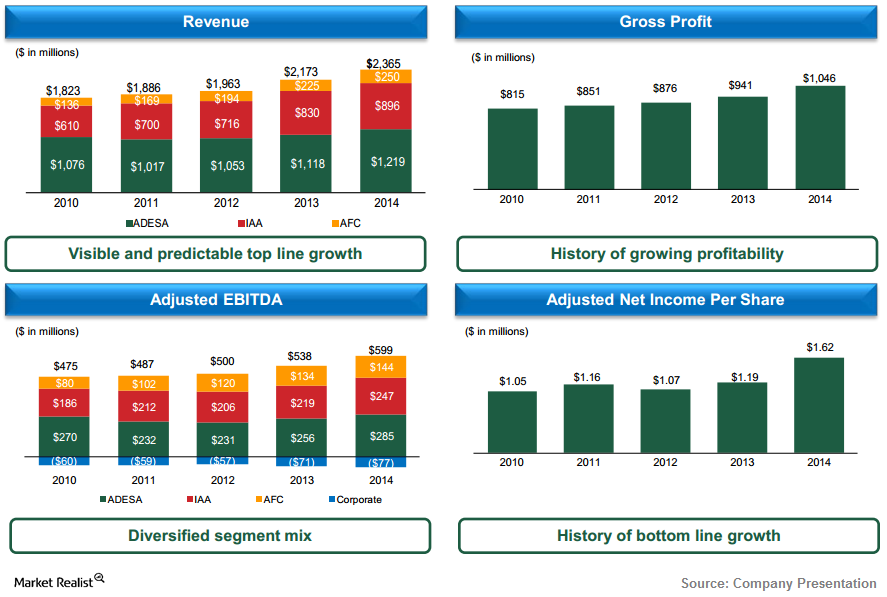 KAR trades at a PE (price-to-earnings) ratio of 31.4x, while Copart Inc. (CPRT) has a value of 25.2x. CarMax, Inc. (KMX) trades at 29.1x, and AutoNation, Inc. (AN) trades at 18.3x.
Article continues below advertisement
Positive market outlook
According to statistics and projections in KAR's recent 10-K filing, volumes for used car auctions are expected to increase in 2015. This is due to "increasing new vehicle sales and lease originations since 2009, as well as readily available credit, which supports retail used car sales."
With the increase in the complexity of vehicle designs, vehicles tend to become more expensive to repair after being involved in accidents. These vehicles are more likely to be treated as total losses by auto insurance companies. Volumes for the salvage auction industry are thus expected to grow with time.
About KAR Auction Services
KAR Auction Services provides vehicle auction services in North America. The company offers auction services for salvage vehicles and used vehicles (or whole car) sellers through its 200+ physical auction venues and several Internet sites.
The company's main businesses include the following:
ADESA – ADESA offers auction services for used vehicles. It offers both online and live auctions to a large customer base, creating a marketplace and enabling buyers to carry out a comparison of vehicles either in person or remotely.
IAA (Insurance Auto Auctions) – IAA offers salvage auction services to clients and deals with low-value or damaged vehicles.
AFC (Automotive Finance Corporation) – This subsidiary of KAR offers inventory-secured financing to independent dealers of used vehicles.
The next part of this series will cover TPG-Axon Capital Management's raised position in Zynga Inc. (ZNGA).