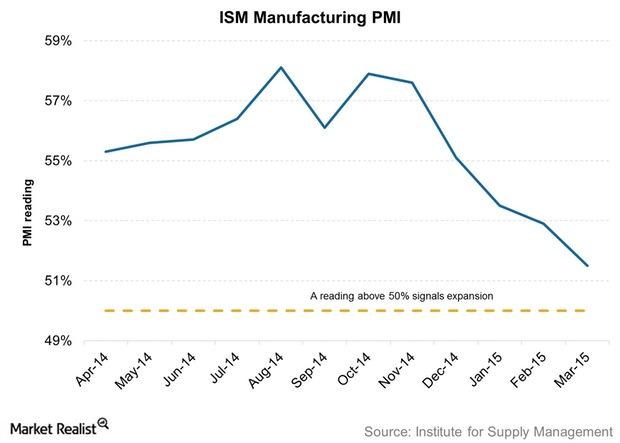 ISM Manufacturing Index Fell for the Fifth Month in a Row
By David Ashworth

Apr. 8 2015, Updated 3:05 p.m. ET
ISM manufacturing
The ISM (Institute for Supply Management) issues the monthly "Manufacturing ISM Report On Business." This report indicates the level of manufacturing activity in the US.
The report for March 2015 showed that the ISM PMI in the US fell to 51.5%. It was down from 52.9% in February. The average for the last year was 55.5%. It had a high of 58.1% and low of 51.5%.
In March, it fell for the fifth month in a row. The reading was the lowest since January 2014.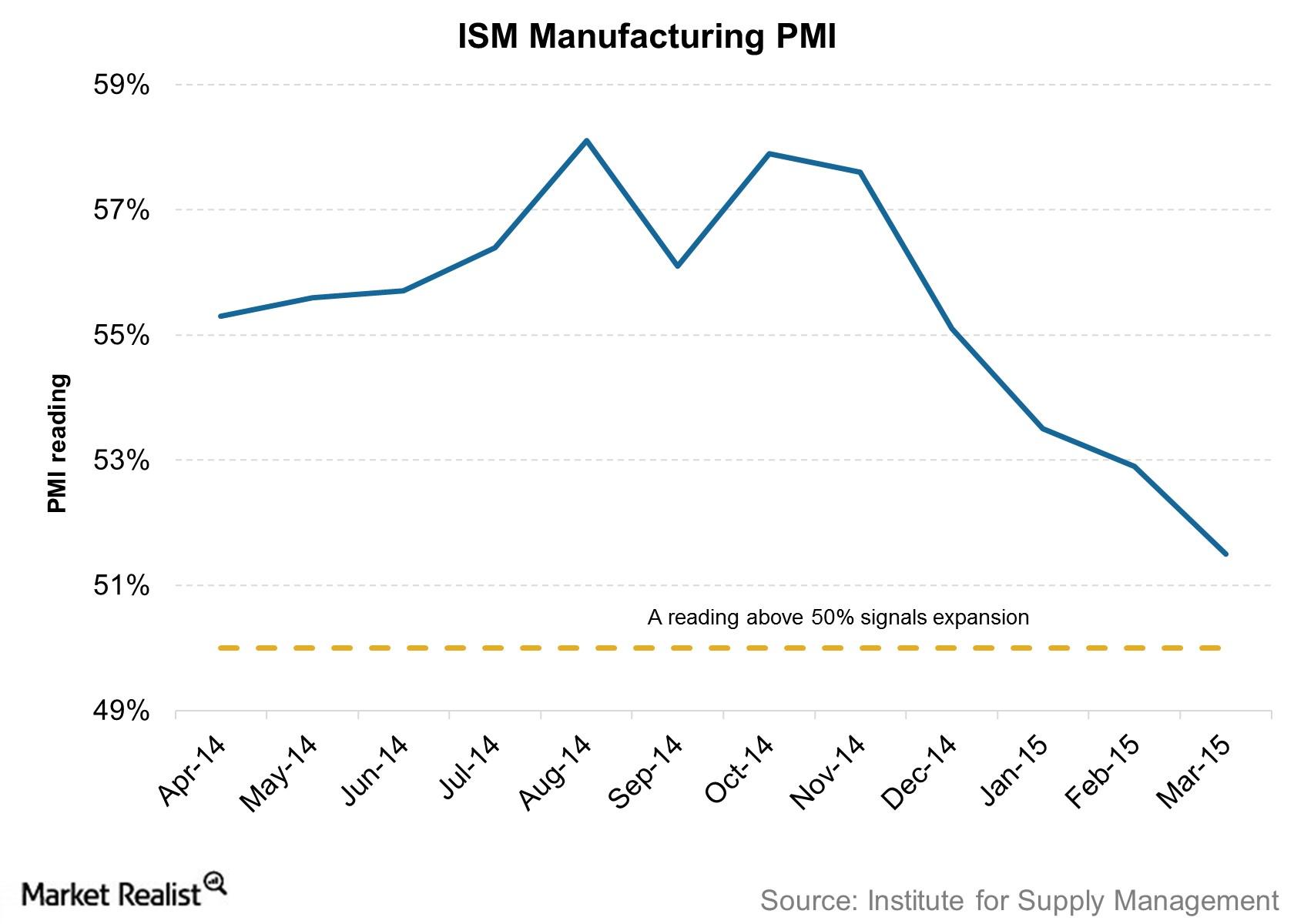 A reading above 50% means a general expansion in manufacturing activity. Anything below 50 means a general contraction. This report showed that manufacturing activity expanded for the 27th month in a row.
Also, according to the institute, a reading above 43.1% indicates an expanding economy over a period of time. As a result, the latest reading showed that the US economy gained for the 70th month in a row.
Article continues below advertisement
Manufacturing industry details
The report highlighted that ten of the 18 manufacturing industries reported growth in March. In February, 12 manufacturing industries reported growth. The highest growth was seen by paper products, wood products, and transportation equipment—in that order. Meanwhile, apparel, leather and allied products, textile mills, and petroleum and coal products were the top three industries out of seven reporting a contraction.
Component indices
Out of the manufacturing PMI's ten component indices, only the index for production was growing at a faster rate than the previous month. It increased from 53.7% to 53.8% month-over-month in March. The index for new export orders continued to contract at a faster rate. The index was down to 47.5% in March. It was 48.5% in February. US exports were hurt by a strong dollar. As a result, the products' prices weren't competitive in the international market.
Among component indices, the one that could hurt the most was the employment index. It fell to 50 in March. It was 51.4 in February. It confirms the loss of 1,000 jobs in the manufacturing sector—reported by ADP's employment report.
Why is it important?
The PMI report is watched closely for its impact on the general economy. Although manufacturing hasn't remained as large a part of economic growth as it used to be, it's still a big influence. As a result, broad market equity ETFs—like the iShares S&P 500 Growth Index Fund (IVW) and the SPDR Dow Jones Industrial Average ETF (DIA)—closely watch the report.
Industrials ETFs—like SPDR Industrial Select Sector Fund (XLI) and the Vanguard Industrials Index Fund (VIS)—are directly affected by change in manufacturing activity. Both of these ETFs have General Electric (GE), Union Pacific (UNP), and 3M (MMM) as their top three holdings. They account for over 18% of the portfolio.