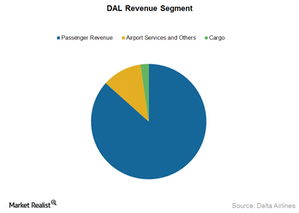 What Investors Should Know about Delta Air Lines
By Ally Schmidt

Nov. 20 2020, Updated 2:48 p.m. ET
Overview of Delta 
Delta Air Lines (DAL) is the third largest domestic airline in the US. The company serves more than 170 million customers each year across the globe. It has an industry-leading global network. It offers its services across 326 destinations in 59 countries on six continents.
Article continues below advertisement
Business strategy
Delta is known for its unique fleet strategy—it prefers to fly older planes. The company also has a non-union workforce. These two factors make for a very flexible operating model. The company benefits from higher cash generation, lower fixed costs, and higher return on invested capital than its competitors. As a result, Delta is able to pay debt faster. It can pay dividends and buy back shares. This gives it a competitive edge against other carriers.
Domestic and international presence
The domestic US market is Delta's most important market. The company gains about 62% of total mainline passenger revenue from this region. Other carriers include Southwest (LUV) and Jet Blue (JBLU). They also have a higher percentage of passenger revenue—Southwest with 94% and Jet Blue with 91%. The region saw its yields rise in the past year. This drove passenger revenue growth of more than 10%.
Apart from the US market, the company also has a presence in international markets like Latin America, the Transatlantic region, the United Kingdom, and Asia-Pacific. The company's key international market is the Transatlantic region. It contributes about 18% of revenue. However, United (UAL) has the highest share in the Atlantic region at 18.6% and the Pacific region at 15.1%. American Airlines Group (AAG) is a combination of American Airlines and US Airways. It has the highest share in the Latin America region.
Delta also has an partnership with Air France. It has a 49% stake in Virgin Atlantic. This gives it better access to London's Heathrow Airport. The company continually invested in foreign airlines to expand its access to global markets—including Gol in Brazil, Virgin Atlantic at London's Heathrow Airport, and Aero-Mexico in Mexico.
Delta forms a 3.07% holding of the Dow Jones Transportation Average Index Fund (IYT).