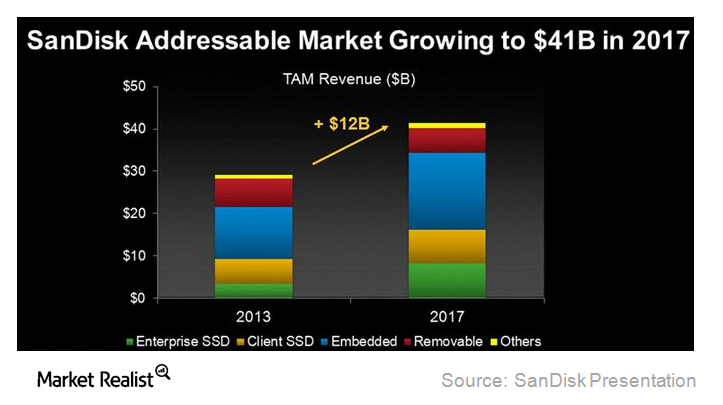 Investors: What to Consider if You Invest in SanDisk
Apple's alleged preference to Samsung over SanDisk
Some analysts believe that Apple has switched its preference for SSDs (solid-state drives) from SanDisk to Samsung. Apple (AAPL) is one of SanDisk's (SNDK) key customers for embedded, NAND, and SSD products. SanDisk relies substantially on Apple for its revenues.
In 3Q14, Apple accounted for ~20% of SanDisk's revenues. As we saw in the article Intel's 3Q14 earnings review, one of the concerns about SanDisk is its dependence on just a few customers. SanDisk stated in its 2014 annual report that Facebook (FB), Samsung, and Apple are some of its leading customers.
If it's true that Apple is changing its preference to Samsung, SanDisk will suffer the loss of a very important customer, which will negatively impact SanDisk's top line.

The chart above shows that the total addressable market for SSDs is expected to be $41 billion by 2017. To gain diversified exposure to SanDisk, you can invest in the iShares U.S. Technology ETF (IYW). IYW invests about 0.40% of its holdings in SanDisk.
Article continues below advertisement
SanDisk launches InfiniFlash for big data space
On March 3, 2015, SanDisk launched InfiniFlash, an all-flash storage platform. This is the company's first storage array. Content repositories, social media sites, big data analytics, and media streaming will benefit from this flash storage platform.
With the SMAC (social, mobile, analytics, and cloud) revolution and an increasing mobile workforce, the demand for all-flash and hybrid flash arrays is growing rapidly. The $1-per-gigabyte price point that InfiniFlash provides is expected to persuade customers to believe that all-flash systems can be feasible for big data workloads and applications.
SMAC revolution could push company's revenue growth
NAND flash memory is a key component in media tablets, ultrabooks, smartphones, and e-readers. NAND flash doesn't require power to retain data and thus works well for devices like smartphones and tablets that frequently upload and replace large files. Smartphone space is largely dominated by Google's Android (GOOG) and Apple's (AAPL) iOS.
The SMAC revolution could push SanDisk's revenue growth. The robust demand for smartphones and tablets aided by SMAC could provide a boost to SanDisk's NAND flash memory business. SanDisk commands a strong position in this space.
2Q15 expectations
For 2Q15 and 2015 overall, SanDisk expects its revenues to be in the range of $1.15 billion–$1.225 billion and $5.4 billion–$5.7 billion, respectively.