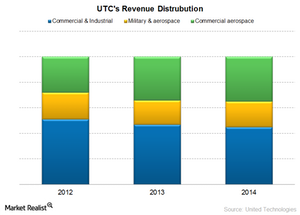 An introduction to United Technologies Corporation
By Ally Schmidt

Updated
A company overview
United Technologies Corporation (UTX), or UTC, is a global provider of high technology products, services, and systems. The company caters primarily to the building systems, security, and aerospace industries.
The company provides a diverse range of products, including escalators, elevators, air-conditioning and refrigeration systems, and building automation. It also provides engines for large commercial, business, and military aircraft as well as aerospace products, fleet management services, and military and commercial helicopters. In addition to products, the company also provides its customers with continued after-sales services.
Article continues below advertisement
UTC has a number of successful products, including the popular Black Hawk helicopter, which is a premium choice for military forces. Other well known products are Otis elevators and escalators, PurePower engines used in the popular CSeries jets by Bombardier, Turbofan engines used by Boeing (BA), and F-135 engines.
The company has a well balanced portfolio of industrial and aerospace products, both leaders in their respective markets. This along with a strong business network that spans many countries and markets makes UTC a global leader in the industrial and aerospace markets.
Business segments
UTC provides its industrial and defense products through the following four segments:
• UTC Building & Industrial Systems – includes Otis Elevator and UTC Climate, Controls & Security Systems
• UTC Aerospace Systems
• Pratt & Whitney
• Sikorsky Aircraft
TC Building & Industrial Systems provides industrial products for buildings and security. UTC Aerospace Systems and Sikorsky Aircraft provide commercial and military aerospace products.
UTC forms 0.54% holding of the iShares Core S&P 500 ETF (IVV). Companies that form a major holding of the ETF include Cisco Systems (CSCO), Amazon (AMZN), and Pepsico Inc. (PEP) with 0.77%, 0.76%, and 0.75%, respectively.
Before we delve more deeply into the industry, let's find out how it all began for United Technologies Corporation (UTX).