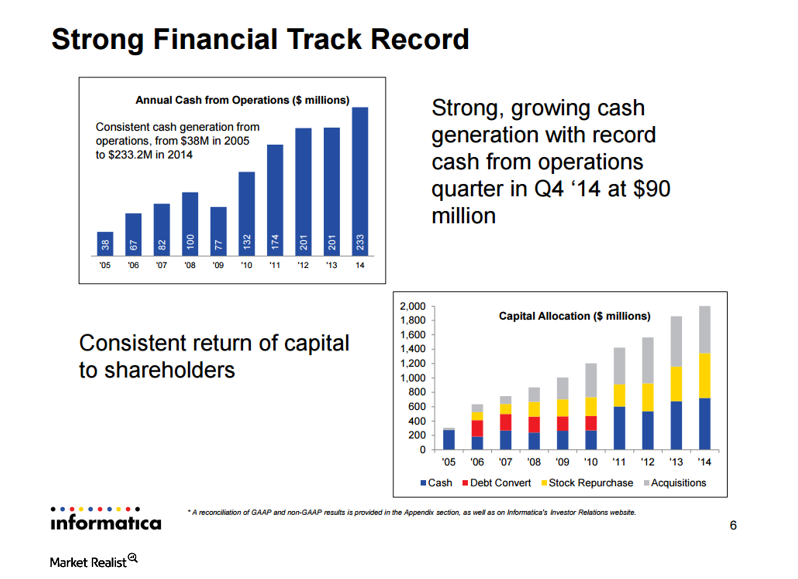 Informatica Merger: The Required Regulatory Approvals
Regulatory approvals determine when the deal will close
For almost all mergers, the rate of return is driven by the time it takes to close the deal. There are two basic types of deals:
Cash tenders – have a shortened timeframe
Mergers – take longer
The Informatica merger is a cash deal with a shareholder vote. It will have a longer timeline.
Article continues below advertisement
Antitrust
In Informatica's (INFA) 10-K, the company describes its industry and lists its main competitors. "The market for our products is highly competitive, quickly evolving, and subject to rapidly changing technology, which may expand the alternatives available to our current and potential customers for their data integration requirements. Our competition consists of hand-coded, custom-built data integration solutions developed in-house by various companies in the industry segments that we target, large vendors of data integration software products (such as IBM, Microsoft, Oracle, SAP, and SAS Institute), certain privately held companies, alternate technologies, and open source solutions. From time to time, we compete with business intelligence and analytics vendors that offer, or may develop, products with functionalities that compete with our products."
While private equity deals rarely generate antitrust issues, sometimes the regulators like to take a deeper look simply to get a better handle on the industry itself. That said, it's hard to see this getting anything but an early termination.
CFIUS
The merger agreement specifies a CFIUS (Committee on Foreign Investment in the United States) review given that one of the buyers is foreign. This is usually an issue for big national security type deals. The review should be pro forma for this transaction.
Merger arbitrage resources