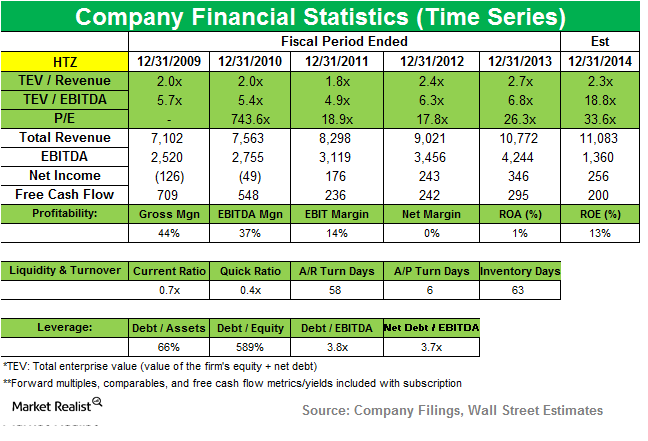 Icahn Adds to Stake in Hertz Global Holdings in 4Q14
Icahn adds to stake in Hertz Global Holdings
Icahn Associates boosted its position in Hertz Global Holdings (HTZ) in the quarter ending in December. The fund disclosed 51,922,405 shares—up from 38,800,000 shares at the close of the third quarter—according to its 3Q14 13F filing.
Article continues below advertisement
Hertz sees listing compliance notice from NYSE
In March, Hertz announced that it saw a notification from the NYSE that it hasn't been able to meet a listing compliance due to the delayed filing of its annual report. In 2014, Hertz said that it would be restating financials for fiscal 2011, 2012, and 2013 to fix about $46.3 million in accounting errors. This caused the company to file the annual report 2014 late.
Unaudited 4Q14 and full-year 2014 results
For 4Q14, the company's revenue totaled $2.5 billion. US rental car revenue was $1.5 billion. This was in line with 4Q13. Hertz said that "a substantial increase in contracted bookings due to a large new account win was partially offset by the Company's decision to strategically reduce its consumer bookings from opaque travel web sites." International car revenue was down 5% YoY (year-over-year) to $515 million. On a constant currency basis, international car revenue was up 2%.
Article continues below advertisement
Equipment rental revenue increased 3% YoY to $413 million. It was up 5% on a constant currency basis. In its earnings update, Hertz said, "Economists are projecting 3% GDP growth in North America in 2015; rental equipment experts are estimating 8% industry growth; and HERC has only about a 4% share of the North American market today. As a result, the Company still expects there will be a significant amount of industry opportunities to capitalize on, despite the energy risk."
Shares surged in December over increased rental prices
In December, shares surged after the company increased prices for its rental cars due to rising fleet expenses. Avis Budget Group's (CAR) shares also soared on the news. In another update, Hertz said that it expects to complete its fleet transformation one month ahead of its original mid-year schedule. The company's early initiatives allowed it to increase its cost-saving commitment to $200 million from $100 million.
A report on the Market Realist website in January noted that, like Avis, Hertz and Ryder System (R) also benefited from increased pricing and higher demand in North America.
You can gain exposure to Hertz by investing in the iShares Russell 1000 Growth ETF (IWF) and the Vanguard Mid-Cap Value ETF (VOE). Hertz accounts for 0.0893% and about 0.60% of IWF and VOE, respectively.
Overview of Hertz Global Holdings
Hertz Global Holdings operates its rental car business through the following brands:
Hertz
Dollar
Thrifty
Firefly
Hertz has more than 10,800 corporate and licensee locations in 145 countries throughout North America, Europe, Latin America, Asia, Australasia, Africa, and the Middle East. The company also provides rental car services to more than 3,000 airport locations around the world.
Hertz owns Donlen—the vehicle leasing and fleet management leader—and HERC (Hertz Equipment Rental Corporation).