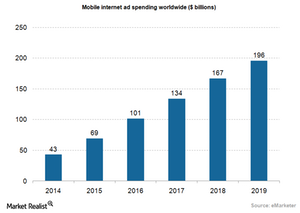 Google Wants to Counter the Threat from Mobile Apps
By Puneet Sikka

Nov. 20 2020, Updated 4:53 p.m. ET
Google's sponsored search ads
In the last part of this series, we discussed how e-commerce players from emerging markets (EEM), like India, are setting a dangerous precedent for Google (GOOG) (GOOGL) by taking the mobile search business away from it.
However, Google developed a way to tackle this problem. It introduced sponsored search results on Google Play, Google Search, and YouTube for mobile apps. Now, advertisers can deep link their ads on these Google platforms to encourage users to install their apps.
This move will help developers advertise their apps among a trove of millions of apps available to potential users on a mobile operating system—be it Android or Apple (AAPL) iOS. It will also help Google earn revenue from each of the sponsored search ads that developers advertise.
Facebook (FB) and Twitter (TWTR) already introduced similar technologies. Facebook's App Links technology and Twitter's mobile app install ads program are meant to encourage people using mobile apps to install other apps with the help of sponsored ads put up by developers.
Article continues below advertisement
Google will need to innovate to tap the mobile ad market growth
Google will need to continue to innovate in the mobile advertising market so it can compete with mobile apps. It also wants to compete with social media companies for ad dollars.
The mobile ad market has huge growth potential. According to a report from eMarketer, and as the above chart shows, mobile Internet ad spending worldwide could increase from $43 billion in 2014 to $196 billion in 2019 at a CAGR (compound annual growth rate) of 36%. The report also mentioned that the mobile ad market will account for 70% of the overall digital ad spending by 2019.