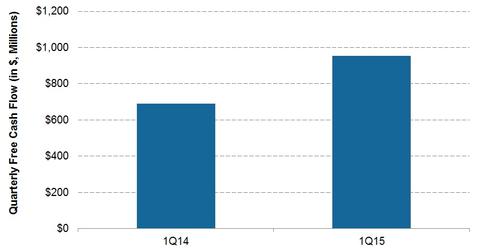 How the Energy Market Outlook Could Affect Schlumberger
By Alex Chamberlin

Updated
US drilling headwinds
In 2015, Schlumberger Limited (SLB) expects headwinds in drilling activity and continuing spending cuts by upstream companies. From the beginning of January to the end of March, the US oil rig count fell by 45%. Lower exploration and production (or E&P) activity and declining rig count will likely hurt drilling equipment and service providers like SLB, Halliburton (HAL), Weatherford International (WFT), and Baker Hughes (BHI) in 1Q15.
Article continues below advertisement
Outlook for the energy market
Drilling activity on US land could remain subdued as uncompleted wells and refracturing activity picks up, but only if crude oil prices rebound. In 2015, E&P spending in the US could decrease by 30%. Also, there could be a 15% decline in international E&P spending led by overall activity reductions in Latin America, Europe, sub-Saharan Africa, and Asia.
What this means for Schlumberger
SLB expects to continue cost restructuring in response to reduced E&P spending. In 1Q15, the company slashed its workforce by 11,000 and recorded a $390-million pre-tax charge. In 4Q14, SLB had incurred a $590-million restructuring charge.
Article continues below advertisement
Free cash flow and share buyback program
Free cash flow (or FCF) is cash flow from operations minus capital expenditure. FCF indicates a company's ability to generate cash for distribution to shareholders.
In 1Q15, Schlumberger generated $1.77 billion in cash flow from operations. During the year, the company had FCF of $954 million. This represented a $264-million increase over 1Q14.
Based on its strong financial health, SLB continued its stock buyback program in 1Q15. The company repurchased $719 million in stock during the quarter. SLB plans to complete a $10-billion buyback program by June 2018.
1Q15 shareholder return
In 1Q15, SLB returned $1.23 billion in cash to shareholders in the form of dividends and share buybacks. This was 6% lower than what shareholders had received in dividends and share repurchases in 1Q14.
On April 16, Schlumberger announced a quarterly dividend of a $0.50 per share. Assuming no change in distribution, this amounts to $2.00 annualized and a yield of 2.4% at the current share price.
SLB makes up 0.65% of the SPDR S&P 500 ETF (SPY).