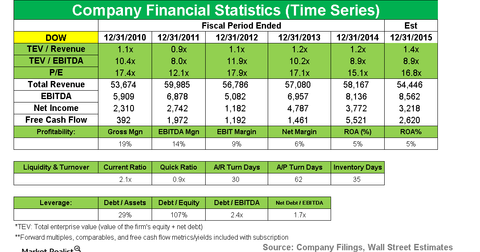 Highfields Capital Initiates a New Position in Dow Chemical
By Stuart McKenzie

Updated
Highfields Capital's holdings in Dow Chemical
As per its recent 13F filing, Highfields Capital opened a new position in Dow Chemical Company (DOW) by purchasing 3,200,000 shares of the company. The holdings constitute 1.24% of the fund's 4Q14 portfolio. Dow Chemical is part of the Materials Select Sector SPDR Fund (XLB) with a weight of 8.82%. Dow Chemical also has a 8.25% representation in the iShares US Basic Materials ETF (IYM).
Article continues below advertisement
Overview of Dow Chemical Company
Dow Chemical Company (DOW) manufactures and supplies specialty chemicals, advanced materials, agrosciences, and plastics, used primarily as raw materials for manufacturing customer products and services. The company's businesses deliver a broad range of technology-based products and solutions to customers in approximately 180 countries and in high-growth sectors such as packaging, electronics, water, coatings, and agriculture.
Record fourth quarter results
Earnings per share (or EPS) rose by $0.20 to $0.85 on an adjusted basis, representing a significant 31% increase and beating analyst estimates of $0.68 per share. Revenue for 4Q14 was $14.38 billion, which missed analyst expectations of $14.41 billion. Earnings before interest, taxes, depreciation, and amortization (or EBITDA) rose by 15%, reaching a 4Q record, amounting to $2.4 billion, on an adjusted basis. Adjusted EBITDA margins increased by 218 basis points and cash from operations reached $2.8 billion, representing an increase of $500 million.
Dow Chemical has a price-to-earnings (or PE) ratio of 16.4x, while peers Air Products & Chemicals (APD), Eastman Chemical (EMN), and Celanese (CE) have a PE ratio of 32.2x, 14x, and 13.9x, respectively.
Article continues below advertisement
Constant focus on productivity
Dow Chemical has shut down 28 assets since the beginning of 2012. The company reduced capital expenditures by ~$400 million between 2011 and 2013. Dow Chemical exceeded its cost target of a $500 million reduction and lowered its headcount by ~3,000, offsetting hiring activity for growth projects since the commencement of 2012. Dow Chemical also lowered its fixed costs by 3% annually, since 2012, when compared to inflationary impacts.
Agricultural Sciences segment
New products for crop protection increased by 20% during 2014. Farmers require higher crop yields in order to meet global demand over the long term. There is a strong demand from growers for Enlist­TM, which is awaiting commercial roll out subject to regulatory approval.
Article continues below advertisement
Consumer Solutions segment
Available credit coupled with lower prices of gasoline drove record sales in 4Q for Dow Automotive Systems. Dow's cellulosics-based products face increasing demand from consumers seeking fitter and healthier lifestyles. Dow Electronic Materials experienced strong 4Q sales due to increased mobile usage and the success of phablets, which boost semiconductor demand.
Infrastructure Solutions segment
Reverse osmosis technologies drove 4Q growth in residential and industrial water of Energy & Water solutions. Dow expects that its coating materials will witness growth in China, as Chinese consumers are choosing the higher value coatings of Dow Chemical.
Performance Materials & Chemicals segment
With regards to Dow's Industrial Solutions segment, demand is continuing to grow with regards to additive solutions utilized within manufacturing processes.
In the next part of this series, we'll cover Highfields Capital's new position in Tesla Motors.