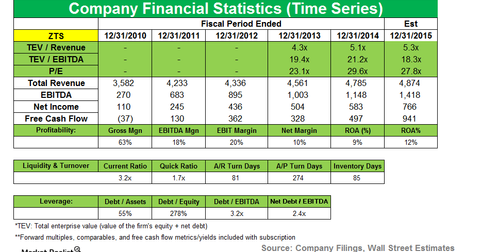 Highfields Capital Adds Zoetis to Its 4Q14 Portfolio
By Stuart McKenzie

Updated
Highfields Capital's holdings in Zoetis
Highfields Capital added Zoetis (ZTS) to its 4Q14 portfolio by purchasing 252,000 shares of the company, representing 0.09% of the fund's portfolio. Zoetis is part of the iShares Russell Mid-Cap Growth ETF (IWP) with a 0.67% exposure.
Article continues below advertisement
Overview of Zoetis
Zoetis (ZTS) is the animal health business that Pfizer (PFE) spun off in June 2013. For more than 60 years, Zoetis was a business unit of Pfizer, and now it is an independent public company. Zoetis is one of the top companies involved in the discovery, development, manufacture, and commercialization of animal health medicines and vaccines. It has a focus on both livestock and companion animals.
Zoetis organizes and manages its business across the following four regional operating segments:
The United States (or US)
Europe, Africa, and the Middle East (or EuAfME)
Canada and Latin America (or CLAR)
Asia Pacific (or APAC)
Activist stance by Bill Ackman's Pershing Square
Shares of Zoetis were trading at a record high following the acquisition of an activist stake in the animal drug maker by Pershing Square Capital Management. Expectations that the activist stake would result in share buybacks, increased dividends, restructuring, or a sale of the company could have enticed investors.
Article continues below advertisement
Healthy 4Q14 financial results
Zoetis reported 4Q14 revenue of $1.3 billion, 5% higher than 4Q13 figures. Reported net income and diluted earnings per share were $126 million and $0.25, respectively, representing a 20% and 19% increase, compared to the prior-year period.
New solutions and products for customers
Zoetis launched a new oral tick and flea parasiticide for dogs in the EU, the US, and Canada. The company also launched a new antibody therapy pertaining to atopic dermatitis for dogs in the US. In addition, the company expects that its purchase of Abbott Animal Health's assets will strengthen its diagnostic and sedation and pain portfolios.
Article continues below advertisement
Animal health industry is poised to grow
Zoetis's website states the animal medicines and vaccines sector will likely represent a global market of $22 billion within the $92 to $102 billion animal health industry. The company cited data from Vetnosis, a research and consulting firm specializing in global animal health and veterinary medicine. The company added that between 2011 and 2016, the animal medicines and vaccines sector is projected to grow at a compound annual growth rate of 5.7% per year.
This growth will also benefit Zoetis's peers in the sector such as Merck Animal Health, the animal health division of Merck & Co. (MRK); Merial, the animal health division of Sanofi (SNY); Elanco, the animal health division of Eli Lilly and Company (LLY); and Bayer Animal Health, the animal health division of Bayer AG (BAYZF).
We'll discuss Highfields Capital's new position in Visteon in the next part of this series.