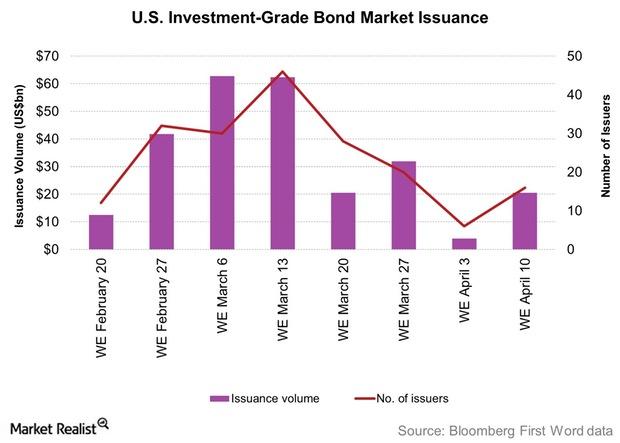 High-Grade Corporate Bond Issuers Make a Cautious Return
By David Ashworth

Apr. 14 2015, Updated 6:10 p.m. ET
Deals and volumes for investment-grade bonds
Trends in the primary corporate bond market inform investors about the terms at which new debt is priced. The trends can help you assess how your investments are performing in yield terms. They also help you assess the credit risks and spreads across sectors. You can decide if you want to invest in an issue that's providing an attractive yield, considering its associated risks.
Corporate investment-grade issuance surged to $20.525 billion in the primary markets in the week to April 10, 2015. This was 413.1% higher than issuance worth $4 billion in the previous week. The number of issuers jumped to 16—up by ten compared to the previous week. The issuance was only on three of the five trading days in the week.
Article continues below advertisement
The previous week saw very thin issuance due to a holiday. Last week, bond yields were primarily influenced by the Federal Reserve's minutes for the meeting held March 17–18. The minutes revealed that policymakers' opinions diverged regarding a rate hike in June. While most of the policymakers were in agreement on a June hike, a few disagreed.
This had a negative impact on Treasuries that read the minutes as favoring a hike in June. A rate hike may push bond yields higher. This will lead their prices lower. This will negatively impact investors in ETFs like the iShares Barclays 20+ Year Treasury Bond Fund (TLT) and the iShares Barclays 7-10 Year Treasury Bond Fund (IEF).
GM Financial—the financial services arm of General Motors (GM), ING Groep (ING), and Glencore Funding LLC were the highest bond issuers in the week to April 10. Societe Generale, Bank of Montreal (BMO), and Bank of Nova Scotia (BNS) were the other major issuers last week.
Issuance by quality and maturity
Fixed-rate issues formed 96.3% of all the issuances last week. Looking at the issues' credit ratings, BBB-rated issuers were the most prolific. They made up 45.8%, or $9.4 billion in issuance. They were followed by A-rated issuers. They formed 29.8% of the week's issuance.
In terms of maturity, issuances were more evenly spread than the previous week. The largest chunk of issuance, making up 28.8% of all the issues, was in the seven-year maturity category. It was followed by the ten-year maturity category at 23.1% of the issuances. After five weeks of lull, the greater than 30-year maturity category accounted for 2.4% of the total issuance. Perpetuals saw issuance worth $2.25 billion—compared to the $250 million issuance in the previous week.
In the next part of this series, we'll highlight the major deals—including pricing, credit rating, and yields.