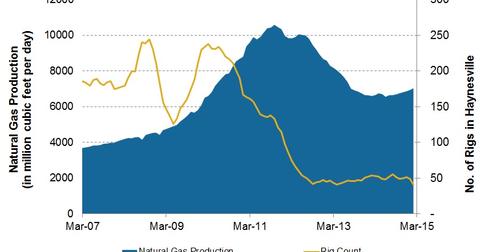 Haynesville Shale Production, Drill Efficiency Increase in March
By Alex Chamberlin

Updated
Haynesville Shale production
The U.S. Energy Information Administration (or EIA) estimates that the Haynesville Shale produced 7.03 billion cubic feet per day (or Bcf/d) of natural gas in March. This is according to its Drilling Productivity Report (or DPR) released on April 13, 2015. March production at the Haynesville Shale is 1.3% more than February's production and 6.6% higher than a year ago. The Haynesville Shale is located in Louisiana, southwestern Arkansas, and eastern Texas.
Natural gas producers in the Haynesville Shale should benefit from higher production. These include Anadarko Petroleum (APC), BHP Billiton Limited (BHP), Chesapeake Energy (CHK), and EXCO Resources (XCO). XCO is 1.65% of the SPDR S&P Oil & Gas Exploration & Production ETF (XOP).
Article continues below advertisement
Haynesville Shale rigs and production
According to the EIA, natural gas production in the Haynesville Shale increased ~92% in the past eight years. In March 2015, the region produced ~7.03 Bcf/d, compared to ~3.65 Bcf/d in March 2007.
The number of rigs in the Haynesville Shale decreased to 41 in March, from 49 in February. A year ago, there were 54 drilling rigs in the region. It's important to note that 26 of the rigs in March were directed toward natural gas production.
You can read about the latest movements in horizontal and vertical rig count in Market Realist's article Horizontal Rig Count Falls for 20th Consecutive Week.
As noted in the chart above, drill efficiency has improved significantly in the Haynesville Shale, particularly in natural gas production. From March 2007 to March 2015, natural gas production per rig increased to ~5.8 million cubic feet per day (or MMcf/d) from ~1 MMcf/d, or by ~5 times.
Is a course correction in the cards?
Crude oil and natural gas production in key US shales has increased in the past few years. But the EIA's projection suggests that production may halt or decrease in some of these shales in the next two months.
Read the next part of this series to find out how various shales are expected to perform in the next couple of months.