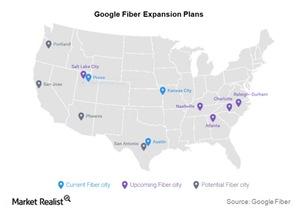 Google Fiber and AT&T GigaPower Race to Reach New Markets
By Ray Sheffer

Apr. 20 2015, Published 8:32 a.m. ET
Planned and existing availability of Google Fiber
In earlier parts of this series, we learned that U-verse, along with AT&T GigaPower, was made available in the Atlanta market on April 13, 2015. We also learned that Google (GOOG)(GOOGL) plans to expand Google Fiber in that metro market. Also, we found that U-verse with AT&T GigaPower is expected to launch in San Antonio, Miami, Nashville, Chicago, St. Louis, Jacksonville, Greensboro, and Charlotte. Two of these markets are also awaiting planned expansion for Google Fiber.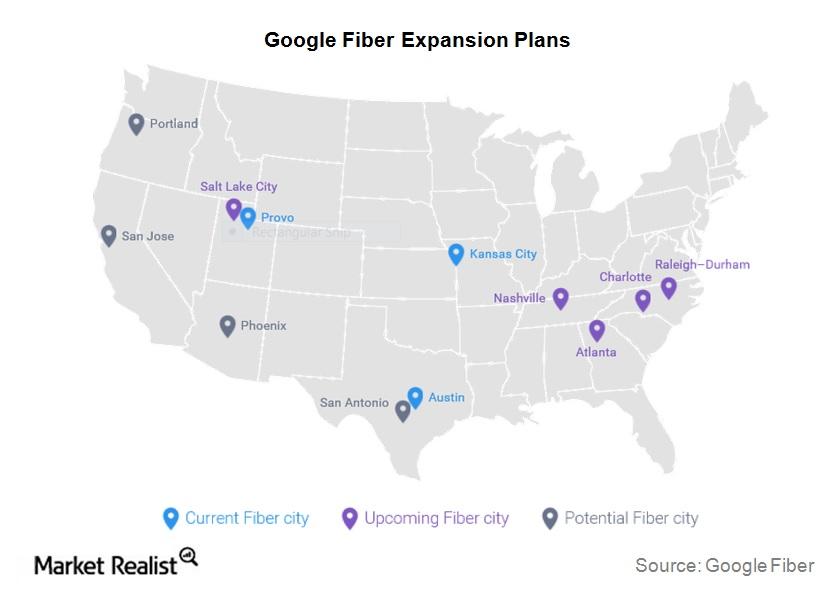 As you can see in the figure above, Google Fiber is currently available in the three metro markets of Austin, Kansas City, and Provo. U-verse with AT&T GigaPower is available in two of these markets: Austin and Kansas City.
Article continues below advertisement
Google has planned Google Fiber expansion in Atlanta, Nashville, Charlotte, Raleigh-Durham, and Salt Lake City. U-verse with AT&T GigaPower has already beaten Google Fiber in terms of deployment in select areas in the Atlanta market. However, Charlotte and Nashville remain in the planned expansion portfolios of both these services.
What is Google Fiber?
Google Fiber is a high-speed internet service with a maximum per-second speed of 1 GB, or gigabyte. It also offers Google Fiber TV service. These services are offered to both consumers and small businesses where the product is currently available.
The vanilla Internet offering—Gigabit Internet—is priced at $70 per month for consumers. For consumers, the bundled offering—Gigabit + TV—is priced at $130 per month in select areas of Austin and Kansas City markets and $120 per month in select locations of Provo.
For small businesses, the Gigabit Internet service is available for $100 per month in the areas where the service is currently available.
You can take on diversified exposure to AT&T and Google by investing in the Sector SPDR Trust SBI Interest (XLK). The ETF held ~4.2% in AT&T and ~3.9% each in GOOG and GOOGL on March 31, 2015.
Also, you can take on more diversified exposure to AT&T by investing in the SPDR S&P 500 ETF (SPY). The ETF held ~0.9% in the carrier on the same date. It also held a total of ~1.7% in GOOG and GOOGL.